AC Stabilizer Repair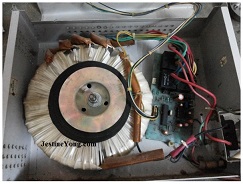 My mother called me that her Air conditioner was not working. After work I went straight home and took my tool kit to check the air conditioner. The air conditioner was not getting power from the ac Stabilizer. So the real problem was the stabilizer and not the air conditioner. The ac stabilizer was very old (more than 10 years) with the model by the name of Syscom and rated 4KV. Take a look at the photo below:

All the three LED indicators were not lighting up when the stabilizer was switched On. So I opened the top cover to inspect what may be the reason.
The power supply was reaching the relay but no further. I saw a burnt mark at the side of the relay and instantly I know that it was the root cause of the failure.


Photograph of faulty relay can be seen in the below picture. There were total three relays and two relays were defective.

Since it was already late so I decided to buy the relay the next morning. After breakfast I went to the electronic shop which was located about 6 Km away from my home. I got new relays for about INR 40.00 each (about USD0.70).

I replaced it with the new relays and voila the ac stabilizer was back to life once again.


Mission accomplished.

This article was contributed by Doraiswamy SR from Chennai India. Served  in Air Force as  an Electronics Engineer for 20 years, presently working as Manager in a manufacturing factory. An electrical and electronics enthusiasts undertakes repair and rectification job as a hobby and to learn more.
Please give a support by clicking  on the social buttons below. Your feedback on the post is welcome. Please leave it in the comments.
P.S- Do you know of any your friends who would benefit from this content that you are reading now? If so, forward this website to your friends or you can invite your friends to subscribe to my newsletter for free in this Link.
Likes
(

215

)
Dislikes
(

2

)