ACER 7254E CRT Monitor Repaired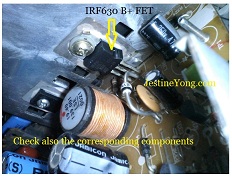 I got this monitor from my friend for free. I like to repair although didn't get profit and have planned to give this to the others. It is good to sharpen our troubleshooting skill from broken devices. I took this monitor home and start my job. When I connected it to PC and turn it on, the power on led indicator just blinks. There was no picture, I tried to put my back of hand to in front of CRT screen to feel the high voltage, I don't feel it. It looks something shorted because the power on led indicator just blink and I was sure it has to do with secondary side on SMPS.

I took the cover out and start my troubleshooting. The first thing that I do was to look for any burnt components, bulged capacitor or dry joints but I found the bottom of PCB looks good and clean. I tested secondary diodes and one diode looks suspicious when I tested it with my multimeter on board. I removed one of this diode leg to make sure and those diode just tested good. This diode trace going to vertical circuit but I couldn't find any faulty component.
Sometimes power blink could causes by defective horizontal circuit. I have tested the flyback with Ring Tester and internal capacitor also tested good. HOT and damper diode were checked good too. Scan through B+ circuit, finally I found B+ FET IRF630M is shorted when I check it on board. I removed it and make sure those B+ FET were developed short circuit.

When semiconductor failed, sometimes another component causes it or it just failed itself. I don't want to make mistake so tried to check surrounding components and all were checked good. It is time to change it and see what will happen, if this didn't cure the problem I have to troubleshoot further.

Thanks God, this monitor alive again. I can see clear picture coming out and happy to keep this out of landfills.

This article is contributed by Rudi Wijaya from North Sumatera Medan (Indonesia). He is an electronics repair hobbyist and specializes in TV, Monitor and DVD repair. He usually repairs the items that belong to friends and family.
Please give a support by clicking  on the social buttons below. Your feedback on the post is welcome. Please leave it in the comments.
P.S- Do you know of any your friends who would benefit from this content that you are reading now? If so, forward this website to your friends or you can invite your friends to subscribe to my newsletter for free in this Link.
Likes
(

171

)
Dislikes
(

0

)