ATX Power Supply Repaired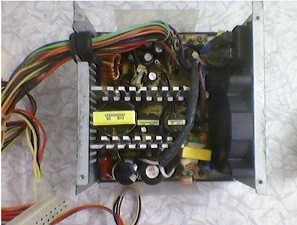 Last week my boss brought to me an ATX power supply for repair.
The complaint was no display when connected to the CPU Motherboard.

I found the power supply was very dirty internally once the cover was opened.

The first thing to do is to scan around for any bad component. I saw two bulged main filter capacitors and I believe this was the cause of the problem.

I cleaned the dust and dirt first before replacing the two bulged electrolytic capacitors.
Both the capacitors value was 680uf/200volt. The display appeared once the power supply was connected to the CPU Motherboard. It was an easy repair and does not take much time to finish the job.

This article was prepared for you by Mr Humberto Rodriguez from Cuba.
Please give a support by clicking  on the social buttons below. Your feedback on the post is welcome. Please leave it in the comments.
By the way if you have any good repair article that you want me to publish in this blog please do contact me HERE.
Likes

(35)
Dislikes

(0)
Likes
(

9

)
Dislikes
(

0

)