A dead audio box repaired. Model: Presonus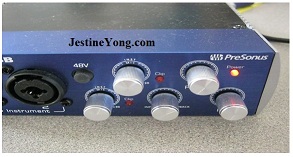 A customer who lives nearby brought me a dead audio box. This audio box is a brand new one and for some reason it did not work. It gets its power from an USB port. When I tried to power it up through a USB port, I could not find that port. It was missing.

This is the information label that I found glued to the back of the machine.

This is the front panel of the audio box as you can see in the photo above.
There were about six screws holding the main box. There were two screws on the top, two on the bottom and two on the back. Once I took these screws off, I was able to see inside this audiobox.

Here is a different view of the audio box and as you can see, it is a new machine which made me wonder why the USB port was missing.

As you can see in this photo, the USB port is missing and look what I found when I took this board out.

This is the actual USB port and it was loose inside the audio box.

This is another view of the loose USB port that was supposed to be soldered inside the audiobox.
In my mind I thought, that should be an easy job to find a new USB port and just soldered it back on board. Thinking and reality were so different in this case. I have looked for a new USB port all over the place in my home town and I could not find any. It is a shame to see such things happening here. It only needs a USB port and the machine should be working again. I could not find a new part so I started looking for used part. I called all computer guys in the area and I could not find even used one. I went through my junk in my workshop and guess what I have found. It was an old router that used this kind of connection. I was really happy to see that.
De soldered it off the old board and soldered on the audio box board. Here is the result.

I put the machine back together and connected it to my laptop and look what happened.

Mission Accomplished.

This article was prepared for you by Waleed Rishmawi, one of our 'Master Authors' and currently working in the Bethlehem area of Palestine repairing electrical and electronic equipment.
Please give a support by clicking  on the social buttons below. Your feedback on the post is welcome. Please leave it in the comments.
P.S- Do you know of any your friends who would benefit from this content that you are reading now? If so, forward this website to your friends or you can invite your friends to subscribe to my newsletter for free in this Link.
Likes

(27)
Dislikes

(0)
Likes
(

5

)
Dislikes
(

0

)