Biolight 3000 Repair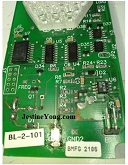 This Biolight was brought into me after another repairer had tried to patch it up and although having charged a large sum, had not satisfied the customer with a positive repair.

First of all, what is the purpose of this light? Infrared (600 – 950nm) as well as near Infrared (750 – 2500nm) light has been proven to provide a number of health benefits, including relief from muscular pain and arthritis.
Unlike a heat lamp, which creates heat, the LED Biolight provides certain wavelengths of light without creating possible harmful heat.
This customer uses this particular unit both on the horses that she cares for as well as herself. She has several of these units, which were quite expensive. The previous repairer found that the battery pack had leaked, so after replacing the pack, fitted an external switch. Unfortunately, every time this was placed on charge, the lights would come on and the batteries would never reach full charge and would go flat very quickly.

After disassembly, I could see many tracks had been damaged. After testing the battery pack, I was surprised to find that it was dead flat. Disassembling the pack didn't give me any confidence in its operation. It was clear that it had been made poorly by the repairer.

After approval from the customer, a new battery pack was purchased. But the problem remained of the light staying on during charging. In fact, the repairer had fitted an on/off switch as the original momentary switch would no longer work with the damaged circuit.

After careful inspection of the circuit board, I realized that it could not be practically repaired within a reasonable budget. I felt that that bypassing the charging system would allow the light to operate correctly independent of the charging circuit on the board.
This enabled the battery to be directly charged without the light staying on during charging.

After discussions with the customer about the most viable option for repair, it was decided simply to purchase a universal charger with the appropriate barrel jack. This 'intelligent charge' system would be able to charge the battery and take the place of the charging circuit on the board.

After charging the battery and testing the operation of the unit, both the infrared and near infrared lights worked.

I was able to pass the unit onto a now satisfied customer. Sorry guys, no video this time!

This article was prepared for you by Mark Rabone from Australia.
Please give a support by clicking on the social buttons below. Your feedback on the post is welcome. Please leave it in the comments.
P.S- Do you know of any your friends who would benefit from this content that you are reading now? If so, forward this website to your friends or you can invite your friends to subscribe to my newsletter for free in this Link.
Note: You can check out his previous repair article below: https://jestineyong.com/digitor-multimeter-repair/
Likes
(

63

)
Dislikes
(

0

)