Panasonic Blue-Ray 3D Disk Player Repaired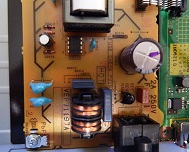 My friend Michelle, who owns the Insignia TV that I replaced the RF connector in, brought me this Panasonic Blue-Ray Disk Player Model# DMP-BDT215. All she said about the problem with it was that it stopped working. So I went ahead and opened it up thinking maybe the bridge rectifier (BR) shorted and blew the fuse.
The BR checked good with my DMM onboard, and bad with my Analog meter. So I removed it and some diodes. They checked good off-board. The transformer checked good with my Blue Ring Tester.


A couple of e-caps tested a little off with my ESR meter, so I pulled them and they tested good off-board. I tested them for a short and capacitance as well as the ESR. I couldn't find anything wrong with the Disk player; everything looked and checked fine. I was impressed with Panasonic also because the components look very good, as well as the PCB's. The soldering on the boards looks outstanding.
Then I thought, maybe I'm not being told the whole truth. So I started inspecting all of the connectors and look at what I found…

There were also 2 pins on the very end of that connector that were touching each other. Pins 22 & 23 – pin 23 was bent over onto 22 (I forgot to take a picture of them before I straightened them). I was afraid that pin 23 would break if I bent it back to take a picture and then straightened it up again, so I left it alone. You can see in the pictures that they have been bent up. It just happens that the last pin on the connector, pin 23, is the Stand-by power pin and pin 22 is one of the ground pins. So the power to the stand-by circuit was being shorted to ground!

That's why it wouldn't turn on! Evidently someone had been inside this Disk Player and bent the pins putting it back together. I went ahead and reseated all of the other connectors, checking for more bent pins. They all looked good. I also went ahead and reseated the flex ribbon connectors.

Success!! The Disk Player is working great now! I'm half way through my second movie and it's working like a brand new one. She will be very happy to know it is fixed!

My name is Robert Calk Jr. I'm a Hobbyist from Texas USA and I love learning electronics and device repair.
Please give a support by clicking on the social buttons below. Your feedback on the post is welcome. Please leave it in the comments.
P.S- Do you know of any your friends who would benefit from this content that you are reading now? If so, forward this website to your friends or you can invite your friends to subscribe to my newsletter for free in this Link.
Likes
(

200

)
Dislikes
(

2

)