Burnt And Badly Leaked Capacitor Found In Samsung CRT TV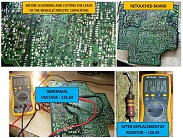 MAKE AND MODEL: SAMSUNG CD20F4 CRT TV
COMPLAINT REPORTED: Dead

HISTORY: This CRT TV had come to me with a problem of no video a couple of months ago, which I solved but with minimum maintenance as the customer did not heed to my recommendation of total replacement of all electrolytic capacitors on the board.
TROUBLESHOOTING AND RECTIFICATION DONE: I went to the customer's house, opened the set and dismantled the PCB and brought it to home. This time, I told the customer that I was going to do a total replacement of all the electrolytic capacitors, which she readily agreed.
My first work was replacing all the electrolytic capacitors. While doing that I came across this 22/160V Cap which had its bottom burnt and leaked. A problem due to over voltage. After I completed the retouch of the board on places which were not covered last time, I disconnected the B+ to the FBT and connected a 100W as load. Checked the voltage and found it to be around 134; i.e., about 9 volts more than the normal. As per guidance given by expert techie friends, I checked one resistor in the SMPS secondary feedback circuit and found that the value had gone high. So, replaced it and found that the voltage was around 125, which is normal. Disconnected and discharged the tank capacitor, reconnected the jumper wire to FBT and loaded it on to my testing CRT Tube. Found raster. But I got some burning smell, which was coming from the PTC of the Degaussing circuit. It was getting hot (another indication that high voltage was the cause for failure). So, replaced that too. Tested the Board by running it on for a few hours. Then discharged the anode and tank capacitor and dismantled the board. Went to the customer's house, re-fixed the board, switched on, adjusted the screen and focus voltages and fixed the back cover. The TV was found working very well with better clarity and the customer was happy about it. Mission accomplished, money earned twice on this TV along with satisfaction too! Note: Some customers will learn hard lesson only after they burn their fingers! What to do! That's how they are and we cannot do anything, even though our reputation is at stake due to bad oral publicity!
HERE ARE A FEW PICTURES:




This article was prepared for you by Parasuraman Subramanian from India. He is 70 years old and has more than 30 years' experience in handling antique equipment like Valve Radio, Amps, Reel Tape Recorders and currently studying latest tech-classes conducted by Kerala State Electronics Technicians' Association. He has done graduation in BBA degree, private diploma in Radio Engineering and retired as MD of a USA company. Presently working as Consultant to Hospital and other institutions.
Please give a support by clicking on the social buttons below. Your feedback on the post is welcome. Please leave it in the comments.
P.S-If you enjoyed reading this, click here to subscribe to my blog (free subscription). That way, you'll never miss a post. You can also forward this website link to your friends and colleagues-thanks!
You may check on his previous repair article below:
https://jestineyong.com/smd-regulator-ic-found-open-in-olsenmark-omr1239/
Likes
(

60

)
Dislikes
(

0

)