Canisters used in the Caribbean and the America areas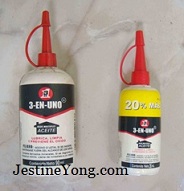 First of all I want to thank Mr. Karlo who have asked me for the posting of canisters I use. In this article, I'm showing some of the canisters used in the Caribbean, North, Central and South America area in the repair and maintenance field.

Castrol Limited.
Let's begin with Castrol brand, a very useful spray for maintenance and cleaning. It is called as Castrol DWF with the following features:
Water dispersant.
Penetrant.
Lubricant

 WD-40 Company
The canister shown below is a lubricant and protective product with the following features:
Stops squeaks.
Drives out moisture.
Cleans and protects
Loosen rusted parts
Frees sticky mechanisms.

          And now I'll show you my favorite Long-Lasting Multi-Purpose oil, the 3 in 1 with its logo:

These Long-Lasting Multi-Purpose Oils have 3 features:
Lubricates.
Penetrates rust
Cleans.
SILIMEX from Mexico.
This chemical industry is run by Mexicans, and they do not sell to other countries.
You have to order it directly using e-mail or web contact. They have variety of products.

The photos above show a product which has properties of cleaning and lubricant at the same time, and very useful in fine mechanisms (Printers, Audio, Video), Microwave Ovens, Switches and Carbon Potentiometer. It has the following features:
Lubricant and high cleaning.
Dust remover.
Protects from moisture.
High dielectric properties.
Works fine at high/low temperature.

The product shown in the above photos is designed for cleaning of plastics covers (only external use) of electronics devices like PCs, TV sets, Audio equipments, etc. They have the following features:
Ozone protection.
Protects the ecological balance.
Provides high gloss.
Provides a fine finish.
I hope now you have got a better idea on what type of canister to use in your repairing and maintenance field.

This article was prepared for you by Humberto Rodriguez, one of our 'Master Authors' from Cuba.
Please give a support by clicking  on the social buttons below. Your feedback on the post is welcome. Please leave it in the comments.
P.S- Do you know of any your friends who would benefit from this content that you are reading now? If so, forward this website to your friends or you can invite your friends to subscribe to my newsletter for free in this Link.
Likes
(

103

)
Dislikes
(

7

)