Circuit Burnt Beyond Recognition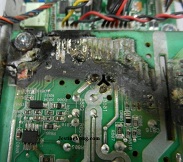 A customer sent to me a LCD Monitor with the complaint of no power. The moment the metal cover is removed guess what I saw? Two burnt dead lizard yike!


Judging by the badly burnt circuit area I had called the customer telling him that the LCD Monitor was beyond repair.
Even if you have cleaned up the circuit board and replaced all the bad power components the chances for it to work again would be slim because the mainboard could be affected as well.

I was wondering how these two lizards managed to go into the power board. After I had closed the Monitor I could see there was a small gap at the right side of the back cover and this is the reason why both the lizards could entered.
Likes
(

38

)
Dislikes
(

0

)