Circuit Track Problem In B.P.M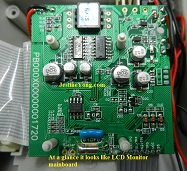 I have a blood pressure monitor (B.P.M) with the brand name of Beurer.  I use it to check my blood pressure. Due to the busy schedule (last year) I have forgotten to use the device until my wife reminded me to use it.
The moment I pressed on the power button, the display would appear and then shutdown (totally blank in the LCD display).

No display
Once the batteries cover was opened I saw the batteries already leaked. The leakage did affect the circuit line/track as seen from the photo below.


I had to open up the cover and check for any broken circuit line. I found one of the circuit tracks was broken and had to clean the area with Thinner before using a wire to make the connection.

Once done I tested it and no more shutting down. I applied some hot glue on the wire and closed back the cover.

This is how the internal part look like:



I turned the set On and checked on my blood pressure. Below is the result that I got. What do you think about the result?

The price of this tester is about USD100+. With a simple repair work, this device was brought back to life.

This article is brought to you by Jestine Yong
Please give a support by clicking on the social buttons below. Your feedback on the post is welcome. Please leave it in the comments.
P.S- Do you know of any your friends who would benefit from this content that you are reading now? If so, forward this website to your friends or you can invite your friends to subscribe to my newsletter for free in this Link.
Likes
(

163

)
Dislikes
(

0

)