Dead cordless phone brought back to life. Model: Panasonic KX-TGM240-B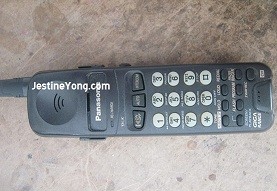 A police officer brought this phone to my shop for repair. He explained that this phone was deserted for almost a year and now he wants it to use it again. It was 2.4 GHZ cordless phone

I just love this kind of cordless phone. It has a high range, answer machine, two antennas and inter come built in.
The moment I powered up the machine nothing came on. I checked the power transformer with my digital meter, there was no reading there. Here is why.

I had to replace this transformer with a new one. I powered up the machine and it came on.
I started to charge the phone because it has been a long time since the battery was charged. The charging light was flashing on and off. That is a sign of a bad battery. I took the cordless hand set off the charger and checked the battery. It was bad.

It was suppose to give me 3.6 volt reading but it was not. Once I replaced the battery. I started getting steady charging light on the charging port of the cordless phone.
I charged the battery for about 8 hours as was recommended by the factory. I hooked up the phone to power and the phone line jack, but I could not hear the dial tone. It was dead. I know the phone line jack is working fine because I have two cordless phones in my shop and both are working fine. It must be the speaker inside the head set.

I took the two screws off the back and exposed what inside the phone

These two wires the red and white are the speaker wires soldered to the board. It was reading 150 ohm. It was giving me a good reading but the sound on that speaker was dead. I got a phone speaker with the same specs and soldered to the board.
I put the phone back together and I could hear a dial tone this time. I did many calls with this phone just to make sure all was working fine.
Everything was working just fine; the inter come, the speaker, the ringing volume, and the charging port. Mission accomplished.

This article was prepared for you by Waleed Rishmawi, one of our 'Master Authors' and currently working in the Bethlehem area of Palestine repairing electrical and electronic equipment. Please give a support by clicking  on the social buttons below. Your feedback on the post is welcome. Please leave it in the comments.
By the way if you have any good repair article that you want me to publish in this blog please do contact me HERE.
Likes
(

31

)
Dislikes
(

0

)