Desktop Computer With Intermittent Power Problem Fixed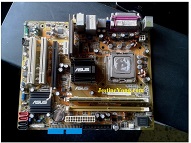 I have received one desktop computer with the complaint of intermittent power problem. Hence I have started troubleshooting by testing the On/off power switch of the computer with my multimeter and found it to be good. Then I have started visual inspection in desktop for any loose connection but everything was ok. I have doubt of the ATX SMPS, hence I have put my working test bench SMPS for testing but still the problem was there. It sometimes works and sometimes don't.
I have observed whenever problem occurred at that time, the CPU FAN and SMPS FAN both were working that means something is wrong with motherboard because power is available on motherboard. Hence I have removed the motherboard from the computer and again started visual inspection on the board. This Motherboard is of ASUS Make and Model is P5B-MX.

While inspecting everything seems to be ok except one thing. I have observed one capacitor is little bulged.

The value of the Capacitor is 3300uF 6.3V. For your information it is difficult to find such part in our local electronics shop. So I searched through all the junk boards that I have kept and finally found one ASUS MB P5GZ-MX with identical same design of this section but capacitor value is slightly lower than the original one-680uF 6.3V. Since I can't find the exact capacitor value, I have decided to take the risk by using the 680uf 6.3 volt capacitor and run the test.

The good news-after letting the computer run (burn in test) for 2 days non stop, it seems that this capacitor can be used. However I will continue to search for the part as the original part number is still the best if you want your machine to last long.

This article was prepared for you by Yogesh Panchal who works as a Computer Hardware Engineer in Mumbai India.
Please give a support by clicking on the social buttons below. Your feedback on the post is welcome. Please leave it in the comments.
P.S- Do you know of any your friends who would benefit from this content that you are reading now? If so, forward this website to your friends or you can invite your friends to subscribe to my newsletter for free in this Link.
Note: You can check out his previous repair article in the below link:
https://www.jestineyong.com/speaker-intermittent-problem-repaired/
Likes
(

144

)
Dislikes
(

0

)