What Everybody Ought To Know About Diagnosing LCD TV T-con Board With Gamma Distortion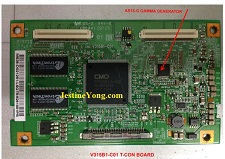 One of my business associate asked me whether I can analyse the Samsung LCD TV for him. The model is LA32A330JLX which is in the store room for quite some time as it is very dusty when I received it. He said it too expensive to repair so he just kept it for sentimental reason. When I switched it on, the LCD display has incorrect colour, noisy disturbances at black level and poor contrast picture as shown below.

This type of defects normally caused by the main or the T-Con board .  From the TV channel display, it is unlikely that the main board failure as it is impossible for the video processing circuits in the main board to display a problem on a specific area of the screen. Failure of the main board or video circuit normally appear noisy or distortion of colours across the whole screen.
Most likely the T-con board BN81-01868A (V315B1) is creating the problem. It cost around US$60 including postage which is on the high side considering the age of this model. Changing the T-con board can be a very fast & easy repair job but it is not cost effective or may not worthwhile to repair it. A better solution will be to try to trouble shoot the T-con board, since it may not be big problem as the major function i.e the timing controller is working fine or else the TV channel will not be able to display normal picture except with the problems mentioned earlier.
Just to be sure I check all the dc voltages and did not find any abnormality. In order to display the correct colour components, the grey scale or luminance video part has to be functioning normal just like in a CRT TV. I use the same analogy to trouble-shoot the incorrect colour picture problem. It would be easier to analyse & diagnose the problem with analogue signals rather than the digital signals which is much more complex. I have a ready DIY DVD grey scale pattern disk which I used it for CRT TV repair.
The analogue grey scale signal is apply to the LCD TV AV input and the screen display turned out to be abnormal grey scale image (see photo 1). From the abnormality and discoloration of the grey scale display, it is confirmed that the gamma correction or generator IC is no longer operating normal and not performing gamma correction with the original characteristic. The gamma correction IC could be damaged or deteriorated which resulted in tinted colour and noise generated being superimposed on the dark or grey level.
In the photo below is the abnormal grey scale being display with noise and tinted grey scale. Switched to a TV channel you will be able to judge how the grey scale can affect the picture quality (photo 1).


Photo 1:  Effect of abnormal grey scale on a tv channel picture
Most LCD TV manufacturers do not provide schematics for T-con board and there are limited information on the internet. Spotting the gamma correction IC is not a problem as there are only a few IC's on the board. The gamma correction or generator IC on this T-CON board  is labelled as U6 with marking " AS15-G" and it cost only around US$4.

Photo 2: T-con board V315B1-C01
After replacing the gamma generator IC (U6) the grey scale and TV channel picture is back to normal without noise or discoloration and with good contrast level (see photo 3).


This article was prepared for you by SK Wong from Malaysia and he graduated from London with a degree in Electronics and Electrical Engineering. He has more than 40 years of experience in the consumer product manufacturing. With the passion to repair electronic products from young , he has been doing it part time until now.
Currently, he can provide turnkey solutions for consumer products including services from idea or concept to design , prototyping , finished products (including electronic,mechanical and plastic parts) and manufacturing.
Please give a support by clicking on the social buttons below. Your feedback on the post is welcome. Please leave it in the comments.
P.S-  If you enjoyed reading this, click here to subscribe to my blog (free subscription). That way, you'll never miss a post. You can also forward this website link to your friends and colleagues-thanks!
Note: You can check his previous repair articles below:
https://www.jestineyong.com/how-to-detect-cracked-lcd-panel/
P.S.S- If you wish to learn more about how to repair LCD T-con board you can check out Kent's ebook below:

Likes
(

219

)
Dislikes
(

1

)