DLINK GLB 802C ADSL Broadband Router Repaired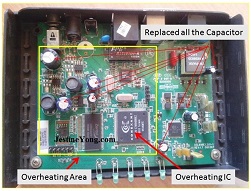 The complaint of this router was irregular behavior like frequently line dropout / slow web page opening / on pinging IP web page pinging but web site page is not opening in any Browser .i.e. Firefox, Google Chrome or internet explorer. I am facing the stated problem since last two to three months. For this problem I have contacted my ISP (Internet Service Provider) they have physically checked the line and they found everything seems to be OK.

Most of the time the above problem is due to oxidation on ADSL Line wire terminal. I have cleaned and rejoin the cable terminal in my house but no success. Meanwhile I got the call from my service provider that they have checked entire line and line up to my house was OK.
I have observed while browsing internet; when I put ON the Router for few minutes it works fine and after 15 to 30 minutes it starts irregular behavior (Even though all LED Indication are showing Normal Operating) as stated above. I have decided to change the location of router, may be due to poor air circulation this happening; while moving the router on holding in my hand I realized that modem is Overheating. So what next?
Because I do not have circuit diagram for fault finding anyway I have opened the router and started with visual inspection but everything seems to be ok there was no physical damage or burn marks. I have turned the Router  On by giving power supply and after few minutes I am trying to find out which area was overheating with the touch of my finger while touching I found CONEXANT Main big square IC was too hot to be touched by finger.

I have kept router On for few Hours and then checked web browsing while PCB is open and out of BOX it works fine so the problem is COOLING?? So why not go ahead with some ideas to provide better cooling and try!!
First of all I have replaced all the electrolytic capacitors.

And then decided to put some holes on casing of router which provides better air circulation so I did the same with the help of hand drill machine.

And brought Aluminum Heatsink for main Square IC which was overheating.

Once done I reassembled the router connected to my pc for testing purpose and I found web pages are now opening with good speed without any problem.

This article was prepared for you by Yogesh Panchal who works as a Computer Hardware Engineer in Mumbai India.
Please give a support by clicking  on the social buttons below. Your feedback on the post is welcome. Please leave it in the comments.
P.S- Do you know of any your friends who would benefit from this content that you are reading now? If so, forward this website to your friends or you can invite your friends to subscribe to my newsletter for free in this Link.
Likes
(

158

)
Dislikes
(

0

)