Dry joints in Horizontal & Vertical circuit in CRT -TV solved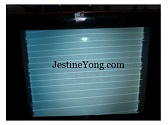 This TV came to me from one of my workmate, complaining that it has horizontal white lines on the screen. But he can still see the picture behind those white lines, and the picture is also faded. These were the information's on the sticker from the manufacturer:

I powered the set and wanted to see what is the actual interpretation of the customer, when I turned on this set this was the screen that I was able to see: (as you can see the white lines)

After this I decided to open the set and do the troubleshooting of this problem. But before I open this TV I tried to make out what might be the problem so that I can work according to my interpretations to save time, and wasting time unnecessarily on circuits that are not in relevant to this problem, these were the following things I came out to start my trouble shooting:
·        Dry joints in vertical and horizontal circuits,
·        Bad capacitors in vertical and horizontal circuits
When I opened the set, and scanned with my naked eyes through the vertical and horizontal circuits, I never found any of the capacitors bulged/swollen.

But here I tried to change the four capacitors in vertical circuit, as marked in the picture above, these capacitors lay on the pins of the vertical IC. Actually this was not the problem but was just doing a trial that can improve the screen status, because I don't have any ESR meter to know the ESR of the capacitors so I just directly substituted these capacitors. (but this was not the problem).
I again turned the board the other side and tried to look for dry joints:

These were the 7 pins of the vertical IC, was resoldered.
But still there was no difference on the screen noted. Moving on I resoldered the horizontal circuit up till the fly back transformer where the actual dry joints were found, and the problem was solved.

MISSION ACCOMPLISHED THE CUSTOMER WAS INFORMED THE HIS JOB IS DONE AND HE CAME WITH A BRILLIANT SMILE ON HIS FACE TO PICK HIS TV………..
Have nice repair journey friends.

This article was prepared for you by Atish Chand From Fiji Islands.
Please give a support by clicking  on the social buttons below. Your feedback on the post is welcome. Please leave it in the comments. By the way if you have any good repair article that you want me to publish in this blog please do contact me HERE.
Likes
(

76

)
Dislikes
(

2

)