DVD Player Dead Now Repaired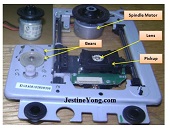 I received this DVD player in my shop for repair, on the model label it was written SONY but when I opened it, I noticed it is not an original SONY DVD player as you can see by yourself.

With the top cover off I applied power and I noticed it is powering ON because I could see the pickup move a bit.
Looking at the display screen I noted it has no display (just blank), I asked the owner for a brief history of this DVD player and he told me that before the screen went blank it used to write "NO DISC". With that I decided to check the state of the spindle motor which can cause such a symptom if faulty.
To check the spindle motor I used my favourite meter for this which is the analogue meter set to low ohm(X1).

If the spindle motor is good it should read low ohm and also rotate at high speed, this I did and the motor was found to be in good health. By the way you don't have to remove the spindle motor to test with a meter, just solder out the red and black wire at the small PCB board where they are connected.
Next I wanted to know if the lens is okay, a simple test for lens is to take it(pickup) to the outer lane when the power is off (you can use gears) to do  this.  After that apply power and if the pickup moved smoothly to the centre and the lens start moving up and down with a deep red light flashing means the lens is probably okay as it is trying to focus.
In my case the Pickup moved smoothly to the centre as expected but no red light and therefore I suspected it to be faulty. I normally change the lens as my last resort and therefore I decided to continue troubleshooting the DVD player.
First I decided to see if the output from the power supply is good and stable, I always do this because if the power supply is not good, it can cause other circuit to behave funny and therefore it is always good practice to check if the supply is okay. I checked it with my digital meter and I got +5, +12,-12, with that I concluded the power supply was good. The owner who was with me all this time decided to call it a day and I was left alone in the shop.
Now that I was alone I decided to do some more troubleshooting, first I wanted to know why there is no display on the screen. So I opened the display circuit assembly module trying to investigate why there is no display. Upon getting this small board out, I started scanning the board looking for dry joints or loose connection; I noted the read wire to the power ON button was broken where it connects to the P.C.B

In electronics we start from known to unknown, so I decided to solder the wire back, afterward I decided to apply power to see the effect of that. To my surprise after applying power I noted the display was now back, just when I was about to celebrate this new development, I got yet another  surprise to see the lens now full red searching for the disc to read.
I loaded music CD Disc and indeed the DVD player was now working.
Conclusion: most DVD player problems are mechanical and very inexpensive to repair and rarely require sophisticated test equipment, just observing using the best tools I have come to realize in my troubleshooting experience which are absolutely free "YOUR SET OF EYES"

Thank you guys
Stay safe
Humphrey Kimathi is from Kenya and the author of DVD Player repair guide,CRT Television repair course , CRT Television troubleshooting guide and Basic Electronics course.
Please give a support by clicking  on the social buttons below. Your feedback on the post is welcome. Please leave it in the comments.
P.S-  If you enjoyed reading this, click here to subscribe to my blog (free subscription). That way, you'll never miss a post. You can also forward this website link to your friends and colleagues-thanks!
Likes
(

258

)
Dislikes
(

3

)