Small Scratches Big Problem- DVD Player No Disk Error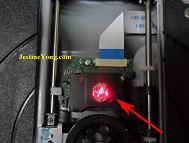 The complaint of this Pensonic DVD player was no disc even though the disc already inserted. This kind of complaint (no disc) is actually quite common in DVD player. It can be due to bad ribbon cable, bad laser beam (and assembly), spindle motor and etc.
As usual, the cover had to be removed in order to see what is wrong inside (troubleshooting). The cover had been removed and you could see the mainboard at the right side, power board at the left and disc assembly in the center.

While I was looking at the internal parts, I saw that the ribbon cable was actually touching on the disc.

A-ha! this could be the reason why there was "no disc" detected. I checked on the continuity of the ribbon cable and true enough there was no continuity between the two ends. It was a small scratch but it cause big problem to the DVD player.

I can actually repair that section of the cable by applying a bridge solder on the broken section but since I have new cables in my compartment, I decided to use a new one as seen from the photo below.

Once the new ribbon cable is fixed, I turned on the DVD player and could see the laser beam (taken with camera).
Please take note that do not see the laser beam with your bare eyes otherwise it can cause complication to your eyes and even go blind. 

When the disc was inserted to the player, it started to play-see the photo below. Another job done with some nice profit. By the way if you want to learn how to repair DVD player you can get Humphrey's Ebook HERE.


This article was prepared for you by Suranga Bandara who owns an Electronics shop in Anuradapura, Sri Lanka.
Please give a support by clicking on the social buttons below. Your feedback on the post is welcome. Please leave it in the comments. If you have electronic repair articles to share with us, please contact us HERE.
P.S-  If you enjoyed reading this, click here to subscribe to my blog (free subscription). That way, you'll never miss a post. You can also forward this website link to your friends and colleagues-thanks!
Note: You may check out his previous repair article in the below link:
https://www.jestineyong.com/power-blinking-fault-in-yamaha-psr-3000-keyboard/
Likes
(

109

)
Dislikes
(

0

)