DVD Player Repaired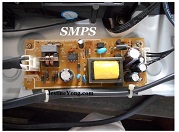 This DVD Player was given to me by my brother in law, and the complaint was it was not turning on.

The brand name  is PARKER Model: DVU230.

First thing done was to take out some screws to remove the upper cover, an easy job in this device.
The SMPS was extracted from the unit for checking it on.
The first components tested on were the e-caps, and guess what? (look at the photo below).

A bad e-cap was found, it had a high ESR Value, and its values were 1000µF/10v. A good one should have about 0.02 to 0.03 ESR ohm but the bad one had 7.5 ESR Ohm which is way out causing the 5 volt line to drop to only few volts. If the mainboard did not get a steady 5 volt, it would not function thus you will not see any display in he front screen of the dvd player. It was replaced with a similar value but with different brand and when the unit was turned "On" the DVD Player started to work normally.

Mission accomplished.

This article was prepared for you by Humberto Rodriguez, one of our 'Master Authors' from Cuba.
Please give a support by clicking  on the social buttons below. Your feedback on the post is welcome. Please leave it in the comments.
P.S- Do you know of any your friends who would benefit from this content that you are reading now? If so, forward this website to your friends or you can invite your friends to subscribe to my newsletter for free in this Link.
Likes
(

238

)
Dislikes
(

0

)