Steele DVD Player Repaired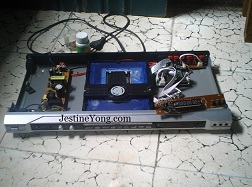 I went to my friend house yesterday and he asked me if I could repair his DVD player (brand name Steele). I asked him what is wrong with her DVD. She said the DVD player cannot play DVD. So I took a look at it and yes it just showed "No Disc" on LCD display.

After further testing, I found the front panel button was defective too because the disc mechanism door couldn't open. Not many people want to repair DVD today because it is really cheap and people always decide to replace it more than repair it. Since she was my friend, I try to help her.
I asked her if I could take the DVD and repair it at my home, she agreed and said that this DVD was her friend gift and would be happy if this could operate again.

Once the DVD reached my home I opened it and began troubleshooting. First of all, I don't suspect power supply section because it could be powered on. I checked the button first and there was no continuity registered in my multimeter when I pressed the button. To my surprised, all of the three buttons (microswitches) were defective. I was just wondering why all of buttons was defective together. I tried to clean it but still no hope and decide to replace it.

After the replacement of the buttons I continued to check on the motor for disc mechanism door and found it was spinning easily and didn't look like jammed. From my experience, it is always the motor or just a laser lens get dirty because of dust when DVD player show "No Disc". So I tried to clean the laser lens and also lubricate the disc mechanism gears to make sure it is working on full performance. I am sure everything will work now and thanks God, it worked again. I could play DVD and really happy with my job. I am happy to keep this out of the landfills.
Thank you
Best Regard
Rudi Wijaya 
This article is contributed by Rudi Wijaya from North Sumatera Medan (Indonesia). He is an electronics repair hobbyist and specializes in TV, Monitor and DVD repair. He usually repairs the items that belong to friends and family.
Please give a support by clicking  on the social buttons below. Your feedback on the post is welcome. Please leave it in the comments.
P.S- Do you know of any your friends who would benefit from this content that you are reading now? If so, forward this website to your friends or you can invite your friends to subscribe to my newsletter for free in this Link.

Likes
(

137

)
Dislikes
(

3

)