A DVD player that does not play CD's repaired. Model: Hemilton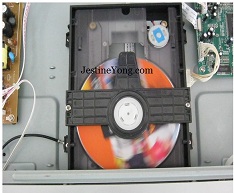 This is a China made DVD player that was brought to my shop with the problem it does not play DVD's.
When I hear such kinds of symptoms in a DVD player, a few things come to mind. The pickup LED is not working or the spin motor is not spinning. There is only one way to find out which one is causing this problem. Let us begin.

The customer explained that when powering the DVD player, they only see the logo of the DVD player. There is a message on display that is it loading but there was no loading taking place. I powered up the DVD player and played a movie in there but the DVD movie was just sitting there and not spinning.
I gave it a push with my finger, and it started to spin and I could see a movie starting on TV. It was clear to me that there is a problem with this motor and it has to be replaced.

It is very easy to replace the motor. Only three tiny screws holding the motor to its stand.  Once these screws are off, the motor is loose.

This is the spinning motor from beneath the board. It is a 3 volts motor and as you can see, the part number is written on it. From experience, it is better to replace it with the same exact specification and part number otherwise you will face a problem.  That will save you time and effort.

It was an easy job replacing this motor. As I said before, about three screws and I were able to replace it with a new motor. I soldered the red wire to the positive and the black to the negative and gave it a try.

As you can see in the photo, the DVD movie was spinning and when I checked the display on TV, the picture was not clean. The picture was distorted. There was one thing left to do and that is cleaning the pickup LED. Once I did that, the picture was clear and it sounded even better. Mission Accomplished.

This article was prepared for you by Waleed Rishmawi, one of our 'Master Authors' and currently working in the Bethlehem area of Palestine repairing electrical and electronic equipment.
Please give a support by clicking  on the social buttons below. Your feedback on the post is welcome. Please leave it in the comments.
P.S- Do you know of any your friends who would benefit from this content that you are reading now? If so, forward this website to your friends or you can invite your friends to subscribe to my newsletter for free in this Link.
Likes
(

196

)
Dislikes
(

0

)