E6 Error In Impex Induction Cooker Solved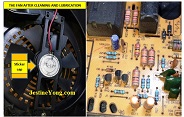 MAKE AND MODEL: Impex Induction Cooker Model No.Omega H5
COMPLAINT OBSERVED: Flashing E6 error

TROUBLE SHOOTING AND RECTIFICATION DONE: This cooker belonged to my wife. When I tried to heat the milk, E6 error flashed. I knew that it could be due to the Fan not rotating, as I could not hear it starting up when I switched on. So, switched off the power, turned the IC (short form being used for Induction Cooker) upside down, tried to rotate the fan with a spoon and it looked like a bit hard to turn. Though I tried to restart the IC, the same error showed up. So, brought it to my workshop, opened the covers. Opened the sticker cap of the fan and poured a few drops of switch cleaning oil in it and manually rotated it well. It became smooth after a few turns. So, applied power and checked whether the fan was starting on its own. It did. Closed the covers, but did not fix it with screws.
Brought it to the kitchen and tried heating a pot of water, and noticed that the IC was working well without any error codes and the Fan started rotating immediately on switch on (it will run only momentarily for a few seconds when we apply the power). It is a check conducted by the uController at start up. So after finishing the heating process, and allowing the IC to cool off, brought it back to my work table and fixed the screws. IC was once again placed where it was to make my wife happy. Mission accomplished with bonus results and satisfaction got added to its collection bag!
Note: The E6 error can also be due to failure of temperature sensors or improper voltages for the fan. Anyhow, in this case it was a clear cut and straightforward symptom and I could solve it quickly.
A FEW PICTURES:



This article was prepared for you by Parasuraman Subramanian from India. He is 70 years old and has more than 30 years' experience in handling antique equipment like Valve Radio, Amps, Reel Tape Recorders and currently studying latest tech-classes conducted by Kerala State Electronics Technicians' Association. He has done graduation in BBA degree, private diploma in Radio Engineering and retired as MD of a USA company. Presently working as Consultant to Hospital and other institutions.
Please give a support by clicking on the social buttons below. Your feedback on the post is welcome. Please leave it in the comments.
P.S-If you enjoyed reading this, click here to subscribe to my blog (free subscription). That way, you'll never miss a post. You can also forward this website link to your friends and colleagues-thanks!
You may check on his previous repair article below:
https://jestineyong.com/defective-ic-caused-no-am-fm-signal-in-philips-radio/
Likes
(

53

)
Dislikes
(

0

)