Escaped From A Potential Fire Hazard In LG CRT TV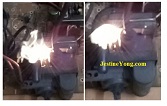 This LG CRT TV, Model 21FA2AG-A9 was brought to me in a dead condition. After opening and cleaning the TV, it was moved to my work place, with the assistance of the customer.
I saw a lot of dry solder and also found strained capacitors on the board, ESR readings of which were out of range. So, replaced all the electrolytic capacitors, which is my thrilling activity whenever I do servicing of old devices. After cleaning the board thoroughly and looking for any self-made shorts due to overlapping solder, I disconnected the jumper wire that goes to the primary of the FBT, connected a 100W bulb as the load. Then applied power through a 200W Bulb and found the load getting the power, indicating all was well with the power supply.
So, disconnected and discharged the capacitors of any residual voltages present, and reconnected the jumper wire. Loaded the board to the CRT, and applied power. I was shocked by a crackling noise in the FBT, out of which a large tongue of fire lurched, spreading burning smell all-around. I switched off the power quickly, upon which the fire stopped. It took some time for me to recover from this shock, something happening for the first time in my experience of handling CRT TVs! Because I was close to the FBT, while I switched on and chances of my dress catching fire from any splash could have burnt my skins apart from possible other hazards! (I was alone in the house, as my wife had gone out!) Though I had seen burning of FBT with smoke, no flame flashed out like this before! This is a very dangerous thing to happen. Needless to say that this is a result of leakage in the base of the anode wire inside the FBT. After recovering from the shock and in order to take a snap of it, I had to switch it on, but this time with all precautions taken to prevent a fire hazard. Here are a couple of snaps that I took very fast when the fire was about to flash out. You can also see the puncture on the FBT, which I snapped after taking it out.


I got an exact replacement and fixed it on the board. This time, I also replaced the Power on/off switch, as it was found permanently shorted by some technician who would have found the switch open. I also replaced the mains cord, as I noticed puncture in a couple of places. Since same type of switch was not available in the market, I used a different one and fixed it doing alteration on the board, such as drilling holes on the board and re-routing the AC inlets. Unfortunately I forgot to click these alterations!
I applied the power and noticed that the Horizontal oscillation was not taking place. Probably the old FBT would have damaged a few components in the Horizontal section. I removed the Horizontal Output Transistor and checked whether horizontal signal was present using oscilloscope and found it was missing. Tracked the reason to the driver Transistor, which was open. Replaced it, upon which the signal was good.

Replaced the H-Out Transistor as a preventive measure and powered the TV. The result was good. Fed Video and let the set run for several hours without any problem, before delivering it to the customer. Another job added to my satisfaction list, with a 'burning' lesson learnt! Also provided a new remote, as the customer had lost it!



This article was prepared for you by Parasuraman Subramanian from India. He is 69 years old and has more than 30 years' experience in handling antique equipment like Valve Radio, Amps, Reel Tape Recorders and currently studying latest tech-classes conducted by Kerala State Electronics Technicians' Association. He has done graduation in BBA degree, private diploma in Radio Engineering and retired as MD of a USA company. Presently working as Consultant to Hospital and other institutions.
Please give a support by clicking on the social buttons below. Your feedback on the post is welcome. Please leave it in the comments.
P.S-If you enjoyed reading this, click here to subscribe to my blog (free subscription). That way, you'll never miss a post. You can also forward this website link to your friends and colleagues-thanks!
You may check on his previous repair article below: https://jestineyong.com/one-zener-diode-found-cracked-and-another-shorted-in-cctv-smps/
Likes
(

65

)
Dislikes
(

0

)