Etech Hot and Cold Water Dispenser Repaired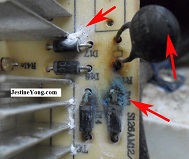 The complaint of this Etech hot and cold water dispenser was it has power and the "hot" side can work but the "cold" side was not giving out cold water. As usual in order to check what is wrong with the dispenser one has to open up the cover and do a visual inspection first.
Visual inspection check is to locate any loose cable connection, burnt component, dry solder, decayed glue, and etc. From the visual inspection check, I found the right side of the circuit board seems to have problem. Look at the photos below:


Guess the water had entered into the circuit board causing short circuit and hence the NTC thermister (negative coefficient thermistor) and the diodes burnt. Surprisingly the main fuse did not blow.

I started to check all the corresponding components in this area and found six components were bad. There were four shorted diodes, cracked NTC and a shorted Dual Schottky Barrier Rectifier. If you do not know how to test component, I suggest that you get Jestine Yong's Testing Components Ebook HERE.

I bought the new components and fixed into the circuit board.

Like any other power supply test, just before you power up the board, you need to connect a light bulb in series with the fuse (fuse had to be removed) and I saw a very dimmed light and then the light fade off. This was a good sign that I can power up the circuit board now without any hesitation. After putting back the fuse and powered On the water dispenser, the  "cold" side worked normally again.


This article was prepared for you by Suranga Bandara who owns an Electronics shop in Anuradapura, Sri Lanka.
Please give a support by clicking on the social buttons below. Your feedback on the post is welcome. Please leave it in the comments.
P.S-  If you enjoyed reading this, click here to subscribe to my blog (free subscription). That way, you'll never miss a post. You can also forward this website link to your friends and colleagues-thanks!
Note: You may check out his previous repair article in the below link:
https://www.jestineyong.com/polytron-led-tv-repaired/
Likes
(

140

)
Dislikes
(

1

)