No Power In Panasonic Fax Machine Solved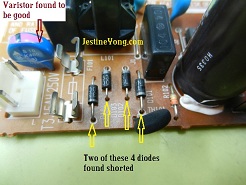 One of my customers sent me a Panasonic Fax machine (Model: KX-FP343ML) and the complaint was no power. In order to see the power supply, one has to remove the cover located at the bottom of the machine. Few screws removed and you could see all the circuit boards and power supply inside as seen from the photo below:




The first component I checked was the main fuse and I found it had open circuit. When a fuse have problem it could mean the fuse can break by itself after serving for few years or there are some shorted components causing the fuse to blow. I proceeded to check on some of the major components in the power primary side like the Thermister,Varistor, bridge rectifier diodes and power FET.


I found two of the four bridge diodes had a short circuit but the power FET was tested good. Since the power FET was tested good then chances for the power IC and secondary output diodes to have problem will be very slim. I did not stop there instead I proceeded to check on the main filter capacitors and also secondary side filter capacitors with my Blue ESR meter to see if there is any marginal capacitors. There are no marginal capacitors detected.
Marginal capacitors means they have higher than normal ESR value but have not reach to the bad/critical level yet. If you did not replace the marginal capacitors, most probably after couple of months or a year the capacitors will breakdown and give problem. Worst if those marginal capacitors give intermittent problems. You will have a hard time troubleshooting such faults.
The two diodes that was shorted had a part number of 1N4005 and I replaced all the four diodes with 1N4007 which have a higher voltage but same ampere. For your information you can replace diodes with the same or higher voltage and ampere but not lower. The reason I replaced the other two working diodes is because somehow I believe the other two working diodes will break down again in a short time. I have experienced this before and this is why you need to replace all the four diodes (even if you found one of the four diodes have problem) if you don't want repeated call from your customer. A repeated call means a loss in your repair time. The fax machine was back in working condition after the diodes and the fuse were replaced.

Note: I did not use the light bulb test because I'm confident that only the fuse and the diodes have problem. Actually it is your preference whether to use the light bulb test or not. If you have no confident then you have to use the light bulb test.

If you already have the basic in electronics repair and would like to increase your knowledge in troubleshooting and repair power supplies, I suggest that you get my ebook HERE. It has many repair techniques that can turn you to become a professional in troubleshooting and repairing power supplies.

This article is brought to you by Jestine Yong
Please give a support by clicking on the social buttons below. Your feedback on the post is welcome. Please leave it in the comments.
P.S- Do you know of any your friends who would benefit from this content that you are reading now? If so, forward this website to your friends or you can invite your friends to subscribe to my newsletter for free in this Link.
Likes
(

218

)
Dislikes
(

0

)