Flashing Stand By Light In LCD TV Repaired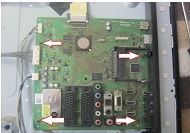 My cousin called me about this TV and said that when powering it up, he only gets a flashing stand by light and the TV does not power on. I went to his house early in the next morning after I dropped off my son to school. He had the TV unhooked and ready to go which was nice.

When I took it back to my shop, I confirmed what my cousin said about his TV, the stand by light was flashing and it was not powering on. I had the same kind of symptoms on my son's play station TV and it was an easy fix. Check it out.

Many times as technicians we always assume the worst in repair for example on this TV. When I first fixed my son's TV by checking voltages and soldering joints, or maybe count how any blinks the stand by light makes then check it out on the net to find the fault, as I went through all that when fixing my son's TV, everything checked out fine but the TV was not coming on. What could be the fault?
As I took off the back cover of the TV I headed directly to the power supply board and the main board and check for…yes, the screws on both boards and guess what? All screws were very loose and needed some attention.

I used a regular Philip head screw driver and started to tie up all the loosen screws and at the end of the process (about one minute). Check it out.

The TV was up and running. I tested it for almost three hours in the shop and it passed the test.
As I called my cousin to come and pick up the TV, he was really shocked that I fixed his TV in less than half an hour. Because he is my cousin, I did not ask for money but he insisted to pay me something for my time spent on repair.
Mission Accomplished.

This article was prepared for you by Waleed Rishmawi, one of our 'Master Authors' and currently working in the Bethlehem area of Palestine repairing electrical and electronic equipment.
P.S- Do you know of any your friends who would benefit from this content that you are reading now? If so, forward this website to your friends or you can invite your friends to subscribe to my newsletter for free in this Link.
Note: You can check his previous repair articles in the link below:
https://jestineyong.com/my-new-esr-meter-found-bad-e-caps/
Likes
(

59

)
Dislikes
(

0

)