Funny Behavior in EPSON LX-300+ Solved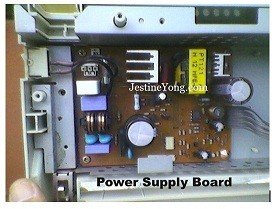 Last Saturday my friend, the doctor of the Hospital phoned me because the Printer of her Department at the Hospital was not printing out as usual (the characters were illegible), so I tell her: take it to your home and let's have a look to it on Sunday. When I got to her house, duty began in the garden of her home on a table at open air

The device had to be disarmed into pieces, and step by step.

The first checked circuit was the Power Supply, and it was fine.

The second checked part was the Printer Head (there were not any needle broken), the ribbon (it was fine too) that attaches The Printer Head with the Main Board, and the transistors 2SD2206A (Darlington Power Transistor) which control the needles of Printer Head, they were in good conditions too.

The Printer mechanism was taken out and checked, looking for any mechanical component out of order, such as gear, spring, etc. Everything was fine until here.

The last circuit checked was the Main Board and the Front Control Panel, which had not any trouble either.


So far so good, but only one thing I had to do yet, something I realized from the beginning: a maintenance duty. The Printer was very dirty; a great deal of dust was present in circuits and mechanism. Once the maintenance (including lubrication too) was done, everything on Printer came back to life as is shown in the photo bellow when a Self-test was executed (legible characters):


This article was prepared for you by Mr Humberto Rodriguez from Cuba. Please give a support by clicking  on the social buttons below. Your feedback on the post is welcome. Please leave it in the comments.
By the way if you have any good repair article that you want me to publish in this blog please do contact me HERE.
Likes
(

16

)
Dislikes
(

0

)