GE CB Radio Repaired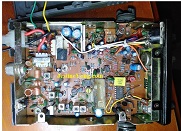 One of my students asked me to look at a GE Mobile CB Transceiver or CB radio. It had been given to him with the hope that it could be repaired. Unfortunately, someone had connected it backwards and it had lost the magic smoke.

As usual, I always start with a good, careful visual. I couldn't see any fuse or protection system, but what I could see was a solder joint that was totally disconnected.
Surely, a simple resolder wouldn't repair this component, since it had been connected backwards.

After using some Amtech flux, new solder was used to reconnect the dry solder joint.


A logical place to start with diagnosis was diodes in the range of the input voltage.
On-board, one diode was found to be shorted. I decided to test it off-board.

It was a simple test and quickly found. This diode was clearly shorted. Although a 1N4002 diode was used, after checking for equivalent diodes, a replacement 1N4007 took its place. This brought the CB radio back to life.

However, this still left the original problem of the radio being incorrectly wired and causing the short.

The wiring connector had been damaged, so no wonder it had been incorrectly connected. It had already had someone attempt to solder wiring directly to the connector, so I decided to install the correct wires and cover them with head shrink.
I decided to make sure that incorrect connection could not be done. Just by adding some masking tape with the terminal orientation will make sure that it should be wired only one way.

The radio was now handed back to a happy customer. Sorry, no video with this repair guys – you'll have to wait for the next article 😊.

This article was prepared for you by Mark Rabone from Australia.
Please give a support by clicking on the social buttons below. Your feedback on the post is welcome. Please leave it in the comments.
P.S- Do you know of any your friends who would benefit from this content that you are reading now? If so, forward this website to your friends or you can invite your friends to subscribe to my newsletter for free in this Link.
Note: You can check out his previous repair article below:
https://jestineyong.com/shark-upright-vacuum-cleaner-repaired/
Likes
(

76

)
Dislikes
(

0

)