Homemade Power Regulator Repaired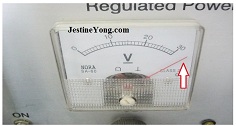 A computer technician, who studied in Greece, manually built this power regulator as a graduation project. He brought it to me for repair because it was showing strange symptoms.

As you can see, it is 0-30 volts with 5 amp rating. He said he had it for a long time and he uses it in his shop very often.

The moment it was powered up, look what happens. The power indicator goes directly to 30 volt and that did not sound right.
Because it was homemade one, it was very easy to get inside of this power regulator. Only four screws were taken out and I was able to see the inside of it. Take a look

I give the customer the credit for this kind of power regulators because it was easy to work on and everything was organized. Let the work begins.

Everything was labeled and was very easy to get to the parts. Since not many parts on that board, I have checked everything on that board. Everything checked ok. It is good once in a while to go back to the basics and refresh the thoughts about checking electronic component. For me, it was fun and was done in a fast way.
Since everything checked ok on that board and still there was problem, there must be something I have not checked. Well, this is what I missed.

They were hiding in the back of the power regulator and I should have paid attention to them because that would have saved me a lot of time. Here is what I did.

Look at the socket marked with the two arrows on that board; these are the wires coming out of these power transistors. I should have disconnected these cables in the first place to see if these were the cause of the problem. Once I did that, look what happened.

These two MJ3001 transistors were shorted out causing this malfunction in this regulated powersupply. Replacing them was not a problem. Only four screws out and I was able to take them out.

These are the transistors wiring from inside the regulated power supply.

Here is one of the MJ3001 transistors. Once these two were replaced, everything went back to be normal and ready for more use in the customer's shop. Mission accomplished.

This article was prepared for you by Waleed Rishmawi, one of our 'Master Authors' and currently working in the Bethlehem area of Palestine repairing electrical and electronic equipment.
Please give a support by clicking  on the social buttons below. Your feedback on the post is welcome. Please leave it in the comments.
P.S- Do you know of any your friends who would benefit from this content that you are reading now? If so, forward this website to your friends or you can invite your friends to subscribe to my newsletter for free in this Link.
Likes
(

5

)
Dislikes
(

0

)