How To Remove TO252 Case Transistor/IC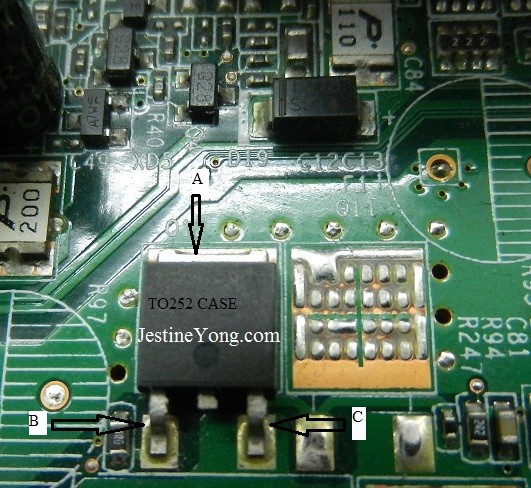 If you have been repairing SMD motherboard I'm sure you would have came across the common TO252 case/package transistor or IC. How to remove this type of components? By using rework station? No,because the temperature from the rework station is not high enough to melt the solder joint especially the metal case of the component. The rework station is meant for removing small size SMD components.
There are two ways to remove such component. First, gently desolder the leg of "B" and "C". Make sure don't lift up too high the leg otherwise you may break the softpart of the front material of the component. Once both legs solder already been removed, you now can apply some fresh solder to point "A".
Get ready a tweezer to hold on either "B" or C" then place the solder gun tip on point "A" and press on the solder gun switch to use the 130 watt mode. For your information I'm using the Hakko 981 Presto solder gun. Once the solder melted, you can gently use some force to lift up the component.
Another way is that, if you think you can't solder out point "B" and "C" perhaps could be due to limited space or you just don't want to take the risk of breaking the component, you can always use a small wire cutter to cut away the pins. Make sure the wire cutter is small and sharp. If the component is tested good you can always joint the pins back to the circuit board.
Hope this helps.
Likes
(

3

)
Dislikes
(

0

)