How To Repair No Power And No Sound In Active Speaker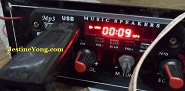 The complaint of this local brand active speaker was no power and no sound. The problem is this active speaker was repaired by someone before thus there is no guarantee that it can be repaired. No matter how I still need to open the set and try to fix it. Below is the photo of the internal section of the active speaker once the cover was removed.

Look at the bad job that was done previously.
The previous repairer did not even clean up the soldered area.

I need to do the cleaning before I start to work on the board. This would be easy to see if there is anymore defect in the circuit board before I further test the active speaker with power On.

I saw couple of dry joints after cleaning the circuit board. I added fresh solder and powered up the set. The power came back but not the sound.

I began to test on the voltages at the connector. There were positive and negative marked beside the connector.
From experience, these DC voltages suppose to be 12 volt.

I found the negative 12 volt present but not the positive 12 volt. See the two photos below:


Since there was no positive 12 volt, I started to check backward (along the 12 volt circuit line) and found a transistor and a 12 volt zener diode shorted.

I replaced both components and the positive 12 volt came back.

I plugged in an USB drive and immediately I could hear the music was playing.

Conclusion- For your information not every time a device that had been repaired by someone can be saved. Sometimes, the repaired was so bad till I need to give up and send it back to the customer. I believe as a repairer, you have encountered it yourself. In the above case, the repairer did not touch on many section thus I'm able to repair it. Ok, will see you again in the next repair article.

This article was prepared for you by Suranga Bandara who owns an Electronics repair shop in Anuradapura, Sri Lanka.
Please give a support by clicking on the social buttons below. Your feedback on the post is welcome. Please leave it in the comments. If you have electronic repair articles to share with us, please contact us HERE.
P.S- If you enjoyed reading the above article, click here to subscribe to my blog (free subscription). That way, you'll never miss a post. You can also forward this website link to your friends and colleagues-thanks!
Note: You may check out his previous post in the below links:
https://jestineyong.com/no-power-in-singer-lcd-tv-repaired/
Likes
(

78

)
Dislikes
(

0

)