How to Repair Printer Hp Deskjet With Horrible Noise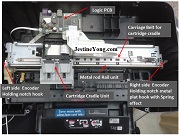 Customer walk-in to my workshop with HP all in one DeskJet printer Model: K209a.
Problem Symptom:  Printer making a loud bang noise when powering up. It was not a squeaking, high pitch, clicking or grinding noise. When I connected the printer to my power outlet it started the bang noise periodically. Normal working procedure is when you power on the Printer cartridges initialize with maintaining air pressure and keep your printer ready for Command to print. But Bang noise is something different.

Hence to fulfill my curiosity I have opened the front cover from where we install the Cartridges. Once powered ON I found Cartridge cradle was banging left and right side end of the mechanism. On visualize inside with a torch light I found one plastic strip was hanging in between the path way of cradle.
So I have removed the plastic strip that is Encoder Strip which decides where to stop the Cartridge while printing by sensing the location with help of sensor which is located behind cradle of the Cartridge.


On removing the encoder strip I found that right side locking notch of the strip already worn out.

So this is main culprit because on initialize of cartridge location; cradle sensor is not passing signal to logic board about location of cradle hence for detecting the location cradle bangs left and right corner on the rail.
So now what is solution for this worn out Strip? I didn't find the part in my nearby location and buying it online is not worth because of delivery time and cost. Furthermore my customer was in hurry to get it repair.
Now I decided to try to repair the plastic Strip by applying fast stick glue. I have doubt about strength of glue because this strip is getting lock on the end with metal part which has spring like effect for holding this strip straight with appropriate tension on strip so applying glue to this strip is doubtful for me.
So I concluded my side of doubt to the customer and customer gave me signal to go ahead with the idea till the time we order the new part.
So after approval from the customer I have glued the worn out part with Fast stick glue.

After some time the strip is ready for the job so I have opened the Printer by removing scanner department on the top.

I have connected the encoder strip back to on its location passing through sensor located behind the cartridge.


After final assembling I powered On the printer and now the banging noise has gone and printer initialize smoothly. I have got reply from the customer that the printer works perfect since from the last 15 days after repaired.

This article was prepared for you by Yogesh Panchal who works as a Computer Hardware Engineer in Mumbai India.
Please give a support by clicking on the social buttons below. Your feedback on the post is welcome. Please leave it in the comments.
P.S- Do you know of any your friends who would benefit from this content that you are reading now? If so, forward this website to your friends or you can invite your friends to subscribe to my newsletter for free in this Link.
Note: You can check his previous article in the link below:
https://jestineyong.com/cfl-bulb-repairing-tips-you-can-do-it/
Likes
(

112

)
Dislikes
(

0

)