How To Use Batteries from Different GSM Phones On Each Other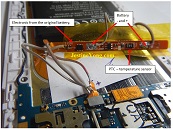 Hi!
Today I will discuss how to use batteries from different GSM phones on each other in an emergency situation or in a situation when correct replacement batteries are not possible to get.
What you have to know before you make the little swap or hack:
What is the original capacity of the battery which should be replaced?
Can the donor battery fit into the new phone casing?
Disassemble the original battery and take out the electronic PCB from there.
What type of battery we deal with ( Li-Ion / Ni-Mh )
Let see what type of pins are on a GSM battery:
In most of case there are 3 or 4 pins.
Battery positive or + voltage
Battery BSI ( Battery Size Indicator/ Battery System Indicator )
Battery Temperature indicator
Battery negative or – voltage
So, let's say we deal with a Li-ion, 1500mAh battery on a modern phone and we don't have a compatible battery for our phone, like in my case the Coolpad E501. I have to take out the electronic from the original battery and connect it to the donor battery which is in my case a Prestigio phone battery with the same capacity and with 3 pins.

The pins are: Battery positive, Battery Temp and Battery ground pins. In most of case in my carrier the batteries had 3 pins and one of them was a so called battery temperature monitor. This is very important to wire up and make them active because, if for some reason the battery goes hot the phone can sense the temperature and shut down itself.
The major reason for this is actually the BSI pin configuration. In my case that is the battery temperature monitoring pin.
Why?
The answer is simple, because the PTC or NTC device which is in the original battery is designed to meet the exactly phone type where it should be.
So, if you interchange this electronic with the electronic from the donor battery then you will maybe have a problem and the phone would to early shut down or to late. This would happen because let's say, the original PTC have a value of 10K but the donor PTC is 5K, then you have an out of calibration safety device which will end up in a failure when it needs to protect.

There are other sophisticated BSI connections too but I didn't meet them so often. Sometime there are fixed resistors in the battery which will tell the phone what capacity is the battery. Some other models have an eeprom in the battery ( that was the case by some phone models made by Siemens ) where are some parameters stored in. Like the leftover charging cycle, capacity, maybe manufacturing date etc.
If you deal with a battery which one have an eeprom inside then you have a problem, because you have to figure out what type of data are stored in the eeprom. If there is a battery life time counter in it then you should reset that.
All that thinks I think the industry made for some commercial tricks and not for safety…
Actually, if you use the electronic from the original battery and connect that stuff to the donor battery then you interchanged only the battery cells and this is the point why I wrote this little tutorial. Can you imagine how many batteries could be saved from junk which are actually not bad, and they are dropped to the junk because the phone was failed?
I never buy a new battery just because mine is died. I have lot of gsm phones different models in my repair shop which are unusable, but the battery cells are ok and they will fit into my phone.
Be carefully whit this tutorial!
If you didn't understand the basics of electronic and you don't know what you do you can get a burn or you short out the battery or the battery can end up in fire!
So! Handle this document carefully.
I hope you enjoy this tutorial and will have fun with.

This article was prepared for you by Christian Robert Adzic from Novi Knezevac-Serbia.
Please give a support by clicking  on the social buttons below. Your feedback on the post is welcome. Please leave it in the comments.
P.S-  If you enjoyed reading this, click here to subscribe to my blog (free subscription). That way, you'll never miss a post. You can also forward this website link to your friends and colleagues-thanks!
Note: You can check his previous post in the below link:
https://jestineyong.com/power-over-ethernet-poe-injector-modifying/
Likes
(

78

)
Dislikes
(

0

)