HP Pavilion dv6700 Laptop Repaired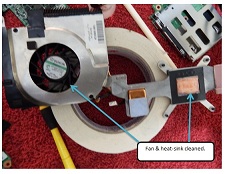 My friend Michelle brought me her HP Pavilion dv6700 laptop that needs to be repaired. She had already paid a "computer guy" that works for the company her daughter works for, that charged her $100 to fix her laptop, and he didn't fix it! I told her to find out if he still works there and demand her money back! Worse still, he didn't even clean the fan and put new thermal compound on the heat-sinks!
The laptop would turn on, but the display would not light. I couldn't see anything on the display even when shining a light on it. Since the inverter board does not cost much and it's 6 years old, I went ahead and ordered a new one. I also ordered a CCFL backlight tester so I could test the backlight also. I wanted to get a CCFL tester anyway, so this repair gave me an excuse to get one now.
While I was waiting for the inverter board and my CCFL tester to get here, I disassembled the laptop and checked everything I could see. The fan was dirty and full of lint and dust and stuff! Also the thermal compound on the fan heat-sink and CPU was dry and hard! The screws holding the heat-sink down were loose too! So I cleaned the fan, heat-sink, GPU, and CPU real good and put some fresh thermal compound on them, then I tightened it down good. Before I put the fan & heat-sink back, I checked the CPU and made sure the pins were not bent. Two components on the inverter board looked kind of like SMD fuses. I sent a picture to Mr. Yong and asked him what they were and he said they were high voltage capacitors. My Peak Atlas LCR45 also confirmed that they were capacitors. Thanks Mr. Yong for taking time out of your busy days to help us out!

The backlight tested good with my CCFL tester. I wanted to take a picture but the instructions say not to keep the backlight lit very long with the tester. When the new inverter board arrived I put it in the laptop and the display was still not coming on. I disconnected the backlight from the inverter board and turned the laptop on. While the laptop was on, I lit the backlight with my CCFL tester for a second and noticed that the screen was blank. So I have some other problem. I plugged the backlight back and put the display back together because I know now that the display is good.

According to my e-book on laptop repair, the next potential suspects are the hard drive or motherboard. The hard drive just seemed to be too quiet for one that is 6 years old. Also, I can't hear the hard drive spin up when I start the laptop. So I removed it and turned on the laptop and the display came on! When I shut it down and restarted the laptop, it did not come on again! As you can see, the hard drive is only a 120 GB. She said that she wants to upgrade to a better hard drive anyway. So I ordered her a new 1TB hard drive hoping that it is the problem. I also told her that there is a new Version2 motherboard available for the laptop that has an upgraded GPU.
When I received the new hard drive, I installed it and found out that it is at least not the main problem. The display is still not coming on! Also the display did not come on when I removed the new hard drive! I removed the RAM memory modules one at a time, and both at the same time, and it still made no difference. The display still did not come on. Removing the optical drive didn't help either. I didn't think it would. I gave her the bad news that she needs a new motherboard. She wants her laptop to be like a new one, so I ordered her the brand new Version2 upgraded motherboard instead of the cheaper used board.

When the "brand new" motherboard arrived, I noticed right away that it wasn't a brand new board! They are trying to rip me off by charging me for a brand new board and delivering me a refurbished board. Here is a picture of the board.

Companies like them give the USA a bad name. We decided to get a refurbished board, but not from that Connecticut company that tried to rip me off, that's for sure – It cost me $20.55 because I had to return the board to them. I'll try to get the money back. People like them claim they made a mistake, but it's actually a gimmick because they know most people will just install the board and take the loss instead of paying to ship it back and waste more time! They said they would give me my money back, but they haven't yet. I've had to open a case against them!
I also received my Orico tool free 2.5" SATA External hard drive enclosure. The 120GB hard drive I removed from the laptop works fine in it, so that wasn't the problem. I didn't think it was- I was sure that the motherboard was the problem.
So I ordered a used motherboard from another USA company and look at what they sent me- a damaged board! Can you believe it! Whoever passed the board and put the red sticker on the board put the sticker right beside the damaged spot on the board! And they can't blame it on the Postal service because the box it was sent to me in is undamaged. The motherboard was damaged before it was put into the box!
I'm going to give them one more chance to send me a good motherboard.
Well Notebook Mechanix sent me another motherboard and it's a good one! They stand by their word and I didn't have to pay to send the damaged motherboard back either. They have good customer service also and were very kind to me and took care of the problem. I would recommend them.

I'm glad the laptop is finally fixed and I'm sure my friend is happy! This is my first laptop repair and it's been a fun learning experience even though I did have some trouble with getting a good board.
I hope you enjoyed this article and please leave any comments or suggestions below. Thanks. And I would like to give a special thanks to Mr. Yong for always being available to help us out and doing so very quickly! Thanks Mr. Yong!

Robert Calk Jr. is a Hobbyist from the USA and loves learning electronics and how to repair electronic devices.
Please give a support by clicking on the social buttons below. Your feedback on the post is welcome. Please leave it in the comments.
P.S- Do you know of any your friends who would benefit from this content that you are reading now? If so, forward this website to your friends or you can invite your friends to subscribe to my newsletter for free in this Link.
Likes
(

245

)
Dislikes
(

5

)