A dead ice maker brought back to life. Model: HOTER IM04-3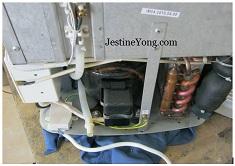 To me the model number of this machine is a bit strange. This is an icemaker and yet the brand name for it is HOTER. Hot and ice is completely the opposite of each other yet, here we are repairing this machine because it was completely dead.

The customer told me that he depends on this machine especially in the summer time because it makes ice and it makes it fast.
Just connect a water line to it and enjoy the coolness of the cold ice made by this machine.

I powered up the machine and according to the user manual, it supposed to make a peep sound then it should come on. None of that happened and it was time to get it open and find out the cause of this dead machine.

There were about four screws on the bottom of it and two to the side. Once these were off, this is what I saw. As you can see, the white power cord was going to the white box and that was my first place to look.
I was getting 220 volts at the main power cable connected to that box. It was time to check deeper into this machine.

I moved to the bigger white box that you see in the photo. I took the screw off and exposed the inside power board.

The first thing that I usually check is the cables; so I started wiggling with these wires and the moment I moved the white cable the machine came on. I checked the cable and it looked fine. The moment I put the white cover back on, the machine stopped working. It seems like the white cover was pushing these wires causing them to fail to deliver power to the machine. At this point I knew that the cause of the problem in this machine is due to this cable and I have to check it further.

After I have done deeper checking, I found out that one of the wires was that you see in the photo, was loose and that explained why when I put the cover back on, the machine stopped working.
I stripped the wire and pushed it inside the socket and add some solder to it making more secure.

Mission accomplished.

This article was prepared for you by Waleed Rishmawi, one of our 'Master Authors' and currently working in the Bethlehem area of Palestine repairing electrical and electronic equipment.
Please give a support by clicking  on the social buttons below. Your feedback on the post is welcome. Please leave it in the comments.
P.S- Do you know of any your friends who would benefit from this content that you are reading now? If so, forward this website to your friends or you can invite your friends to subscribe to my newsletter for free in this Link.
Likes
(

12

)
Dislikes
(

0

)