Kingston USB Repaired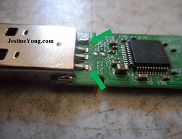 This USB Flash Memory brand KINGSTON model DT101 G2 with a capacity of 8GB was brought to me and the complaint was it was not working.

I connected it into the USB port of the PC and it was not recognized by Windows Operating System.
Therefore the duty began; the device was disarmed step by step.

When the PCB could be seen, look what was seen in the photo below.

The four pins were separated from the PCB. Therefore they had to be re-soldered, but first I had to de-solder the metallic case from the circuit to re-build the tracks.

Thanks God the two connectors of the center (Data+ and Data-) had not lost the connection with the tracks. One of the ends (+5v) was only de-soldered, but the track of the circuit was intact. The other end (Gnd) was broken, in other words, the track attached to this point was broken (open- circuit).
The metallic case was re-soldered into the circuit again. So the two contacts of the center were intact in this repair, nothing was done with them. The end of +5v was re-solder with its own track, and the end of Gnd was attached with the circuit by scratching the other good side of the track and joining both tracks by means of tin.

At this time the device was armed again and connected into the PC. Look yourself the results.

Mission Accomplished

This article was prepared for you by Humberto Rodriguez, one of our 'Master Authors' from Cuba.
Please give a support by clicking  on the social buttons below. Your feedback on the post is welcome. Please leave it in the comments.
P.S-  If you enjoyed reading this, click here to subscribe to my blog (free subscription). That way, you'll never miss a post. You can also forward this website link to your friends and colleagues-thanks!
Note: You may check his previous repair article in the below link:
https://www.jestineyong.com/seagate-barracuda-160gb-hdd-repaired/
Likes
(

163

)
Dislikes
(

1

)