Kodak EasyShare Plus Photoprinter Repair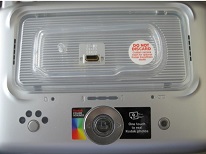 This article describes the repair of a Kodak EasyShare Plus Photoprinter. Given photoprinter prints a perfect photo in 60 seconds with a thermal printer head. It uses a special color cartridge & photo paper kit from Kodak. Like the PH-10 (for 10 photos) or PH-80 packs (for 80 photos). I still have a few packs left from several years back but as I understand Kodak camera's and/or these Photopacks are not sold anymore. Just like Fuji doesn't develop and print old camera rolls of family shots anymore. And to speak with our famous Dutch Johan Cruijf – the Soccerplayer – "every advantage has its drawback" since the Digital Camera makes developing unnecessary nowadays.

I used this printer attached to my pc via USB to print any image I wanted to print in Photoformat (about 10 x 15 cm). Or when I put my Kodak EasyShare CX7530 camera on top of the Kodak EasyShare Printer Dock Plus, I am easily able to select any photo from the internal CX7530 memory while pre-viewing its image on the Camera LCD display before printing.
But one of those days my Kodak printer only printed half images. And because it was never damaged and had never fallen or something that could explain this, it shouldn't have become a problem. And just as I thought I couldn't find any internal broken or defect parts either.
I came to the conclusion that it only had to be the thermal printer head itself. And since I paid a lot of money for Printer and Camera, I just didn't want to give up so easily on this Kodak product. After all without matching Photoprinter my Camera degraded to just taking digital photo's.

Above photo shows my Kodak CX7530 EasyShare Camera. Combined with EasyShare Photo printer, A great DUO!
Buying a new EasyShare printer dock was out of the question because my now defect EasyShare printer was still almost new but maybe just out of its 2 year guarantee. And finding a new spare part was very unlikely.
So I looked around in a second hand store in my hometown if I could find a identical Kodak Printer. I found one that was a little different but also from Kodak, an Easyshare Printer Dock Series 3 printer. It was about 65 euro's and so not cheap but I took the gamble.
The guy who sold it to me said he was sure that it worked but he couldn't show it to me in his store because he didn't have the right power adapter with it. I bought it thinking that if it wasn't identically on the outside maybe the internal thermal printer head still was the same.
When I came home with the second hand EasyShare Series 3 Printer Dock I noticed that it indeed was a little different dock because it would only fit another Easyshare Kodak Camera. And it looked like it also had lesser connections than my own Printer dock had.
And since I was fond of my more luxuries EasyShare Printer Dock Plus, I made the decision to exchange the thermal head. I first made both devices open and I compared the insides of the two Printers.
The pcb's were different also because my PhotoPrinter had more external connections, but the internal motor drive looked the same. And luckily also the flat cable to the Thermal Head was the same width. So that was the sign to continue the Head exchange.

Below: The Spare part Printer Dock. Next photos show my original Printer Dock Plus.


Above photos show the inside of my original EasyShare Kodak printer Dock Plus after repair.

Above photo shows the spare part bought EasyShare Dock Series 3 Photoprinter. And how to remove the complete construction out of the Kodak housing. Right in the Kodak case is the Kodak Color Cassette insertion hole from which the complete mechanic has to be removed by lifting the Left side up first! And on the Front normally a Kodak Photo Cassette needs to be inserted.
But before you can remove this block you have to remove the bottom screws, the back Fan plus the front plastic part first!

The Photo Head construction was quite robust but also not easy to exchange because the Thermal Head was still able to move a bit up and down above the Photo that would pass through. It was screwed on an Aluminium profil that was attached on two copper axises. So it was able to adjust its position. But still only in the up and down going direction, without ever changing the X and Y position of the thermal Head opposite the Photo. Any Photo goes in and out 3 times for all 3 colors and a fourth time to fix the colors. And also the plate on which the Thermal Head was screwed, was exactly adjusted and fixed with 3 hexagonal socket-screw spanners. And both were attached with a rectangle Alu top plate (the size of the print Head plate) with two black springs between them. The construction on which the Thermal Head was connected was able to move in the Z axis because in fact 2 Alu profils both were attached to the same earlier mentioned copper axises. With this exact moving construction the Thermal Head could be lifted fast when the Photo just needed to be transported inside the printer without printing.
And whatever I needed to do to make the Print Head exchange, I NEVER… NEVER should adjust these fixed Allen Key screws. They in fact adjust the space between Thermal Head and Photo when a Photo is thermal developed. So I kept them as they were all the time! I will show some of the pictures that should make it clear how the Thermal Head is to be removed. And how to Re-assembled it again in its new position. I'll show how everything is assembled by Kodak on my now for the Thermal Head already used Spare part EasyShare Printer Dock Series 3. And as you can see on the repaired EasyShare Printer Dock Plus Printer, I kept the same Thermal Head and its matching Alu construction together. Because they are correctly adjusted and already originally precisely working after building into the Printer Dock by the Manufacturer.
But first I'll show some shots of my Kodak EasyShare Camera.


Above photo displays the bottom connector on my camera that fits exactly on the top of the EasyShare Plus Printer Dock.

Above Photo shows the different Spare part model EasyShare Series 3 for another Kodak Camera.
Next Photo's show the Transport Motors and the Color Cassette insert with on top of it the Alu profiles that have the Thermal Print Head attached and can move in the Z-Axis because of the 2 Copper Axises on which they are mounted.
Photo below shows the Color Cassette insert. And inside this insert you also can see the Aluminium construction on which the Thermal Head is mounted. Here you also see the black cover plate which is protecting the Thermal Head from scratching and also from damaging photos and underneath passing color film.




Photos below show how the Thermal Head is assembled on the Aluminium construction. (Flat cable here normally goes over the Alu profile through the opening in the left).

Because the mechanic construct isn't easy to understand, one should do what I did… and that"s taking lots of photos previously any change. (Something that could always help you in any repairs if you are afraid how to re-assemble things. But I even take photos of new more expensive electronic devices on the inside to have a snapshot of all components on a Board in case something should burn out. After all small mounted devices like resistors and semiconductors with the small codes on top won't be replaceable when they are burnt and you don't have a clue what the original parts were.)
As I have said before, one should exchange the good replacement Thermal Head without adjusting any screws if possible. The best thing still would be by keeping everything already by the Manufacturer adjusted matching parts together untouched without changing any screw on its Aluminium construction.
Because it is hard to understand how exactly everything is constructed without showing how they are assembled, I use my now redundant spare part Printer Dock Series 3 PhotoPrinter to demonstrate how the Thermal Head is assembled. Above photo and the following ones are shot from taking apart the Spare part Series 3 Printer Dock. (Of course I do not want to disassemble my now fine working and repaired EasyShare Printer Dock Plus for these photos!)

Above photo and the following ones are all from the now redundant Spare part Series 3 Printer Dock. And its original Thermal Printer Head construction is already moved into my original previously defect Kodak EasyShare Printer Dock Plus.
So the Thermal Head and the Aluminium construct showing here are in fact the bad part from the previous defect Kodak EasyShare Dock Plus Photoprinter.




Above Photo shows the right Copper Axis with one of the 2 Alu profiles still attached.


Again all these last disassembling Photos are only to demonstrate how the Thermal Head construction works and is put together. And when you are going to move the original Thermal Head over into another Photoprinter you are advised to disassemble as little as possible. By keeping everything assembled and unchanged as original matching together you are certain that everything works afterwards as it is supposed to.

On the above Photo the Thermal Head with Flat cable and protective cover removed. (Just mounted with one little screw in the middle of the black plastic cover).
After I opened both Photoprinters and exchanged the Thermal Head with great success into my original previously broken EasyShare Photo printer, now it prints like new again! And all photo's in this article should give you a clear impression that one should not take it too easily and by all means should take his time to make this repair a success.
It took me quite a while before I knew how to move over the Printer Head the best way. But I'm glad I completely managed without having any service manual or repair guarantee. And by writing this article I made a Service Manual for anyone that wants to repair his Kodak Photoprinter also! The many Photos in this article should now make it an easy repair.
And for me it was a gamble to take the Thermal Head out of an EasyShare Printer Dock Series 3 Photoprinter because I didn't have any guarantee that it would work. Not knowing they were the same exchangeable Termal Heads.
Throwing away good parts is no option! Certainly not if you can repair anything by just giving it some time. Isn't Electronics Great !!

Albert van Bemmelen, Weert, The Netherlands.
Please give a support by clicking  on the social buttons below. Your feedback on the post is welcome. Please leave it in the comments.
P.S-  If you enjoyed reading this, click here to subscribe to my blog (free subscription). That way, you'll never miss a post. You can also forward this website link to your friends and colleagues-thanks!
Likes
(

60

)
Dislikes
(

2

)