LCD Monitor Power Supply Modification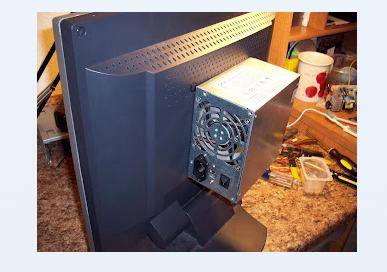 While browsing for LCD Monitor power supply spare parts i saw a website about how to modify ATX power supply into it. Although it was not nice to place behind the LCD Monitor, it works! You can do this modification on your own junk LCD Monitors but not on customer LCD Monitors unless if the customer agrees with your idea. Most of the LCD Monitors are running on 5v and 12 v, what he did was to defeat the original power supply and tapped the supply voltage from the ATX power supply output. Please click on the photo to visit the website.

Some repairers will use universal power supply or power supply from a DVD player to power up the LCD monitors. These power supply modules are smaller thus it can be placed inside the monitor which is more presentable. If you have modified these types of power supplies before we would like to hear your comment-thanks.
Likes
(

7

)
Dislikes
(

0

)