LG LED TV Display Problem Solved Wit A Simple Cut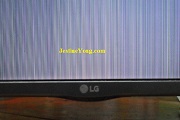 This LG LED 32″ TV came in for repair with the complaint of vertical color lines in the display but have sound. When you can see the display and have sound this usually means the power supply side and probably the mainboard are good.
The next suspect will be the T-con board and the possible LCD panel fault too. Once the TV cover was removed I could see the mainboard and the T-con board very clearly-see the photos below:

Visual inspection test on the left and right side of the COF (Chip on Film) ribbon seems to be no tear and working fine.

The next test would be to use Digital Voltmeter to check on the VGH, VGL and VDD to see if there is any abnormalities in the DC voltage.
I'm not surprised that all the DC voltages seems to be lower than the operating voltage value.

I believe there must be something shorted that pulled down all the DC voltages. I put a closer look at the right side COF ribbon and found that there was actually a small burnt at the right corner- below photo. Sorry, the photo is a bit blur. It also means the burnt area can develop a internal short circuit. I believe this is the short circuit that had caused all the voltages at the T-con board to be lowered than it suppose to be.

What I do next was to cut away that small burnt part (panel supply path to ribbon). No worries on this because it still get the dc supply from the left side VGH supply.

After cutting it and powered on, the beautiful picture immediately appeared-see the photo below:

Conclusion- If you understand about how LED TV work, you will be able to solve lots of TV problems. If you want to be good in LCD/LED TVs repair you can check out Kent's and Damon's ebooks. Ok will see you again in the next article.

This article was prepared for you by Suranga Bandara who owns an Electronics repair shop in Anuradapura, Sri Lanka.
Please give a support by clicking on the social buttons below. Your feedback on the post is welcome. Please leave it in the comments. If you have electronic repair articles to share with us, please contact us HERE.
P.S- If you enjoyed reading the above article, click here to subscribe to my blog (free subscription). That way, you'll never miss a post. You can also forward this website link to your friends and colleagues-thanks!
Note: You may check out his previous post in the below links:
https://jestineyong.com/surprised-that-the-power-ic-did-not-blow/
Likes
(

89

)
Dislikes
(

0

)