No Disk Message in Parker DVD Player Repaired-Model DVK432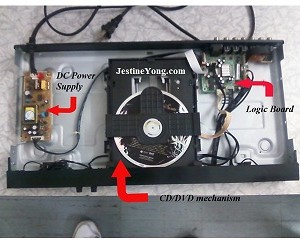 When you turned on the DVD Player PARKER Model DVK432, and inserted any CD (CD- ROM or CD-RW) or DVD (DVD-R or DVD-RW) of audio or video the display started to show the message LOAD, and at some seconds later you could see on the front display the following message: NO DISK. Therefore the DVD Player did not play any CD/DVD at all.
The DVD Player case was disarmed first of all.

The first step was to test the output voltages of the internal DC Power Supply.

As we can see the output voltages: +5v; +12v and -12v (this one not shown on the photos) were correct.
On the other hand, once that output voltages from the DC Power Supply were correct, the other step was to check the CD/DVD mechanism.

When the CD/DVD Mechanism was checked at simple sight, everything appeared to be fine, there were not any pinion gear with any teeth broken, so far so good, but when the impedance of the Spindle Motor was checked, there was an error shown by the Digital Multimeter. The value measured was different from a good working Spindle Motor.

The Spindle Motor was extracted (by means of two little screws with the help of a screwdriver) and substituted by a new unit. And when the DVD Player was put into function, what a surprise, any kind of CD/DVD could be played (music and video).
The message of NO DISK on the front display was not shown again, So DVD Player repaired.

This article was prepared for you by Mr Humberto Rodriguez from Cuba. Please give a support by clicking  on the social buttons below. Your feedback on the post is welcome. Please leave it in the comments.
By the way if you have any good repair article that you want me to publish in this blog please do contact me HERE.
###########################################
If you wish to know more about DVD Player Repair then please click on the link below to check out Humphrey's DVD player repair ebook:
###########################################
Likes
(

42

)
Dislikes
(

0

)