No play in Technics RS-B305 Tape Deck solved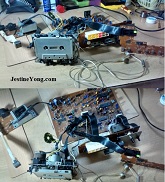 I received this Deck from a friend of mine, stating that it does not play. As usual, I opened the set and noticed it had collected a lot and lot of dust.
So, did a thorough cleaning using blower as well as brush. Then completely dismantled the set. See pictures below:





One point to be noted in this set is that, in order to remove the PCB, after unscrewing from the rear and bottom, you have to tilt the back panel backwards as it is designed in such a way. See the third picture from the bottom. Without this, the PCB will not come out! You should not miss that the mechanism uses two motors, one for play and another for FF/REW. All functions are by feather touch controlled by a microprocessor.
I cleaned all parts once again, using a brush. As can be seen from the first picture below, the tape deck panel was hollow at the bottom, which was covered by a thin cardboard, cut from a CD Cover. This was done by my friend to prevent lizards getting in. The original covering lid was missing when he had bought this long back from the second hand market.

After cleaning all parts, I did some dry solder patch up. Checked ESR of all caps. Found these to be within tolerance. Cleaned and lubricated the mechanism. Changed its belt. Found everything clean and neat. So, reconnected the set and switched it on. It was working, but the pinch roller was spoiled.   So, I replaced it. See picture below:

Then I played it, it worked very well. Please see picture below:

Now that the main work was accomplished, my focus was on this irksome cardboard piece! So I went to an electrical shop, gave this piece to him and requested him to cut a bakelite sheet of exact size and taper the outer four sides so that it looks neat. Please see picture below for what he has done:

The next move was to check online as to what was on this. See what I found in the website:

I viewed a few other pictures, and wrote down what was written on it (if you zoom the above picture, you can read it yourself). Then went to a DTP centre of an offset press carrying the Bakelite plate, and requested them to get me a couple of stickers with the writings which should be an exact or almost near replica of the original picture, which I showed to them from the website. They did a good job.   Then came back home, placed the sticker on the Bakelite plate, and fixed it in the hollow gap using Fevibond. See how it looked now:

Fitted the PCBs and covers back. It started playing very well. See picture below:

I gave the set back to my friend, along with a couple of stickers for future use, if the one on the panel gets dirty or spoiled. But he complained to me on the third day, that it stopped working after a few minutes and brought it back. Once again, I went through all the process of taking out the PCB and make it work on my table and watched it. Bought the service manual online from http://www.owner-manuals.com . Studied the schematic. Noticed that the Motor Control IC BA6218 was getting hot and shuts down. The current drawn by the motors were very minimal.
There were no defective component in the circuit. So, concluded that the IC was defective. Ordered for one online to http://www.utsource.net, as it was not available anywhere in Thrissur, Ernakulam, Chennai and Bangalore.  Got the IC after a few weeks by post. Replaced it.But again, one 1 watt resistor was getting hot and even the IC was getting hot, though not to the extent the other one was. So, I knew that it might fail again. So, I provided a heat zinc for the IC and clipped the 1 watt resistor to the vacant place of the mechanism and wired from there, so that the resistor can dissipate heat.Played the deck again for hours. It worked just fine. So, returned it! Thus, I lived through all the tests and testings done by this Technics Deck on my 'PATIENCE' and brought satisfaction for me as well as to my friend! So it proved the old adage that PATIENCE AND PERSEVERANCE ALWAYS PAYS!

This article was prepared for you by Parasuraman Subramanian from India. He is 65 years old and has more than 30 years' experience in handling antiques equipment Valve Radio, Amps, Reel Tape Recorders and currently studying latest techs classes conduct by Kerala State Electronics Technicians' Association. He was a BBA graduate, retired as MD of a USA company and presently working as Consultant Manager, Purchase & IT, in Irinjalakuda Cooperative Hospital.
Please give a support by clicking  on the social buttons below. Your feedback on the post is welcome. Please leave it in the comments.
P.S-If you enjoyed reading this, click here to subscribe to my blog (free subscription). That way, you'll never miss a post. You can also forward this website link to your friends and colleagues-thanks!
You may check on his previous repair article below:
https://www.jestineyong.com/sansui-au-d5-integrated-amplifier-repair/
Likes
(

106

)
Dislikes
(

1

)