No Power In HP Laserjet 3030 Repaired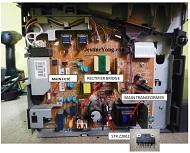 My customer sent to me his HP LaserJet 3030 printer which won't startup (no power). When I asked what caused the problem, he told me there was some problem in the AC network in his area and other devices died too. I decided to take the repairing job and try to bring the printer back to life.
After I checked the printer and disassembled it I started to test the components.
This is the power board of the printer:

First I checked the fuse which was not blown. Then I moved forward to visual check but no symptoms to any bulged caps or burning. So I decided to check the main parts in the primary circuit, I moved to the bridge rectifier and checked with my ohmmeter if it is shorted but not. ESR meter checked on the main capacitor also found to be good (you need to discharge the main capacitor first before checking it with meter). I powered up the power supply and checked on the main capacitor and got around 320Vdc which was good. So I moved forward to the power driver IC which is a STR-Z2062. I can't find any datasheet on the internet and I desoldered the IC and checked for shorted legs. I found 6 shorted legs.

STR-Z2062 power driver IC (if somebody have this IC datasheet, it would be great to share it out)
I mean in the IC there was short circuit and I guess the IC was shorted due to the impact of a spikes on the AC network . There were no other bad components in the power primary side. This IC direct drives the transformer primary coil and so supply the unit with a voltage of the secondary coil 2x 150v and 2x36v but there must be a load on the secondary circuit. Without any load on the secondary circuit the power driver IC won't drive the transformer.

I got a used working IC from a friend from another HP printer (not the same type of printer) and after fixing it and powered On, the printer came back to life again. I used the printer and the scanner for 3 days in my office without any problems. I told my customer about it and he was very happy. It took me about an hour to complete the repair job.

This article was prepared for you by Christian Robert Adzic from Novi Knezevac-Serbia
Please give a support by clicking  on the social buttons below. Your feedback on the post is welcome. Please leave it in the comments.
P.S-  If you enjoyed reading this, click here to subscribe to my blog (free subscription). That way, you'll never miss a post. You can also forward this website link to your friends and colleagues-thanks!
Likes
(

168

)
Dislikes
(

1

)