No Power In Water Filter Machine Repaired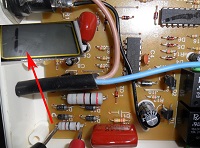 A customer sent this water filter machine to me for repair with the complaint of no power.
The output voltage of this Fuzzy Controller module should be 20 Vdc but now measured zero volt.

Once the cover was opened, I can see the main fuse holder, bridge rectifier, relays and couple of ICs. Just like any other electronic equipment with the complaint of no power, the first component that you need to check is the main fuse.


When the main fuse was tested with my digital multimeter, it had reading and this means the fuse was good. See the photo below:

The next test was the 82 Ohm resistor (Grey, red, black and gold) in which my meter showed that it was open circuit.

I thought one of the bridge diodes should have shorted causing the resistor to open circuit but my guess was wrong because all the four diodes were tested good. One of the diodes reading was .646 which means it was good-see the photo below. Even checking on other major components did not show any bad/shorted components in the circuit.

Since I could not find any shorted components in the circuit I presume only this resistor have problem. So the next step was to find the part for replacement and the part details were 82 Ohm 5% with a 2 watt rating.

Once everything were put back and Powered On, the Fuzzy Controller module came back to life again as seen from the photo below:

Conclusion: If checking the major components did not yield any result, then the next step would be power up the device and perform the voltage test from point to point and obviously will take a longer time.

This article was prepared for you by Suranga Bandara who owns an Electronics shop in Anuradapura, Sri Lanka.
Please give a support by clicking on the social buttons below. Your feedback on the post is welcome. Please leave it in the comments.
P.S-  If you enjoyed reading this, click here to subscribe to my blog (free subscription). That way, you'll never miss a post. You can also forward this website link to your friends and colleagues-thanks!
Note: You may check out his previous repair article in the below link:
https://www.jestineyong.com/videocon-lcd-tv-standby-mode-repaired/
Likes
(

109

)
Dislikes
(

0

)