One Horizontal Line In CRT Monitor Repaired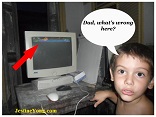 I had a PC in my desk because a friend of mine brought it to me to do a Preventive Maintenance, then my little son asked me if he can play games. While he was playing the games suddenly my son asked me to come inside the room.

When I got to the room, I saw the PC Monitor had a horizontal problem.
The brand of the Monitor was AOC Model No.: 7VlrA. This horizontal lines on monitor problem usually is due to the vertical section having dry joints.

Note: I'm sorry for the dust in the room, but my home was under restoration at that time.
I confess that night I had no wishes to repair that Monitor, so the duty began the next day. The equipment was disassembled, some screws were taken out.

Of course the culprit of this malfunction was the vertical circuit, and the main component in this circuit was the IC TDA 9302H (Vertical deflection output circuit).

Most of the times this IC is not broken, only you have to check on the cold joints of the PCB.

As you can see in the photo above there were some cold joints in the pins of this IC and in the surrounding components as well. Look carefully at the PCB, it is bit darken in the vertical IC area (overheating). All of the vertical IC pins and surrounding components pins were re-soldered with fresh tin.
When the device was tested with the video signal from the PC (VGA port), look at the result in the below photo:

Now I can say my little son is happy again because he can play his games in the PC.

This article was prepared for you by Humberto Rodriguez, one of our 'Master Authors' from Cuba.
Please give a support by clicking  on the social buttons below. Your feedback on the post is welcome. Please leave it in the comments.
P.S-  If you enjoyed reading this, click here to subscribe to my blog (free subscription). That way, you'll never miss a post. You can also forward this website link to your friends and colleagues-thanks!
Likes
(

130

)
Dislikes
(

0

)