Op-Amp IC Circuit Tester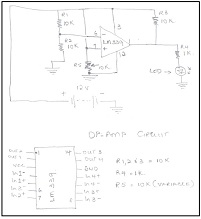 In the diagram above I am using an IC No. LM339 Op-Amp for my demonstration… You can use any op-amp for the tester just the input and output pins will be different.
·         The supply is a 12Volts DC and supplies Pin 3 (Vcc) positive and Pin 12 (Gnd) negative.
·         R1 and R2 are 10k which is a Voltage divider, between them would give you 6 volts to pin6 (input 2 Negative).
·         R5 is a 10k Pot that goes to pin 7 (Input 2 Positive) and to ground.
·         R3 is also a 10k resistor from the positive of the supply to pin 1 (Output 2).
·         R4 is from Pin 1 to an LED.
You can connect the same for all inputs and outputs of the IC to Test.
Principle of operation
With a supply of 12 Volts DC to Pin 3 and which also passes through R1 and R2 to ground, between R1 & R2 you will get 6 Volts in reference to Ground that is going to pin6 (Input 2 Negative) which is a Constant voltage. However, on Pin 7 of LM339 a 10 K pot is supplying Voltage to the positive of input 2 and this can be varied from 0 to 12 volts DC using the POT. Theory is that if Pin 6 is 6 volts and by varying the 10K POT on  Pin 7 to get above 6 Volts you will get an output on Pin 1 and the LED will be Lit, if the voltage on Pin 7 is lower that Pin 6 Volts Out 2 will be Zero. This Test can be done on all the inputs and outputs for the Op-Amp.
Note:
I built this tester on a Bread board with removable wires so I can adjust the inputs and outputs and power supply and you can test any op-amps that is 14, 16 pins etc. You really can't make it a permanent fix because you will be changing around the wires for different op-amps. Different op-amps have different pins for power, input and outputs. Those who understand how the op-amp works will be able to easily test variety of Op amp ics. See the below picture of the circuit using a LM224N Chip.

This article was prepared for you by Andre Gopee from Calitech Limited Trinidad West Indies.
Please give a support by clicking on the social buttons below. Your feedback on the post is welcome. Please leave it in the comments.
By the way if you have any good repair article that you want me to publish in this blog please do contact me HERE.
Likes
(

145

)
Dislikes
(

9

)