Power switch button of PC repaired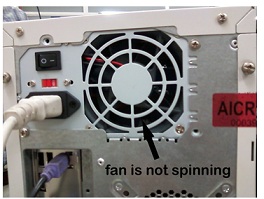 This ASUS PC was brought to my workshop by a customer and the complaint was it did not switch on when the power switch was pressed.

First thing done, once the lateral cover was taken off, I checked on the power supply unit (PSU),it was in perfect conditions.
Second step was to short with a screwdriver the Power Switch pins in Motherboard, and the PSU turned on again; that means the SMPS is in perfect conditions.
Third step is to test with the Digital Multimeter the continuity of the Power Switch button in the Front Panel of the chasis, and it was ok too. So far so good.
Of course the only culprit of this situation was the coupling between the Power Switch Button of the chassis and the Power Switch of the Front Chassis cover. So the only way for taking the Front Chassis cover out was to hold it from the bottom and pulling toward out.

The Power Switch button was pressed and the PC turned on, this process was repeated several times and it never failed.
First idea I had was to cut a little piece of insulating  (in my country we use to call it: spaghettis) of an unused keyboard cable, and with a long-nose pliers to fit it with the Power Switch as shown in the photos below.

This piece of spaghettis was inserted very carefully in the Switch Power of the chassis as shown in the photos below.

The whole chassis was assembled again and when the Power Switch button was pressed thePC turned on without any difficulty.

Mission accomplished.

This article was prepared for you by Humberto Rodriguez, one of our 'Master Authors' from Cuba.
Please give a support by clicking  on the social buttons below. Your feedback on the post is welcome. Please leave it in the comments.
P.S- Do you know of any your friends who would benefit from this content that you are reading now? If so, forward this website to your friends or you can invite your friends to subscribe to my newsletter for free in this Link.
Likes

(10)
Dislikes

(0)

Likes
(

1

)
Dislikes
(

0

)