Continuous Restarting On INTEL PC Repaired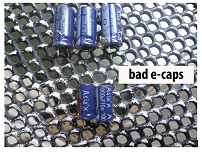 This article is about the PC INTEL D102GGC2. The complaint was restarting all the time. The lateral cover was taken out by means of two screws. Look what I saw.

Everything was cleaned up, but PC remained restarting; the RAM modules were tested and they were fine.
When the SMPS was opened up, look what I saw.

As you can see in the photos above there were 5 bulged e-caps (marked with black arrows). Three of them were 2200µF/10v and the others two were1000µF/10v.

The five e-caps were replaced and the SMPS was assembled and connected to the Motherboard and to the rest of peripheral devices. When the PC was turned on again, it really worked fine. No more continuous restarting. Mission accomplished.
Note: In the future if you come across such restarting problem, the ATX power supply can be a suspect.

This article was prepared for you by Humberto Rodriguez, one of our 'Master Authors' from Cuba.
Please give a support by clicking  on the social buttons below. Your feedback on the post is welcome. Please leave it in the comments.
P.S- Do you know of any your friends who would benefit from this content that you are reading now? If so, forward this website to your friends or you can invite your friends to subscribe to my newsletter for free in this Link.
Likes
(

158

)
Dislikes
(

1

)