Phantom of the Opera pinball machine by Data East Repaired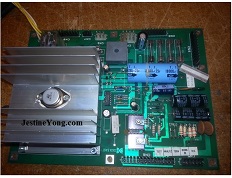 I went with my friend Sav to look at this pinball machine as he valued my input. One of the displays wasn't working so we got the machine cheaper than the advertised price.

I tested the power supply line going to the display board and found the 5v rail was down (around 4.6v)

This wasn't the culprit. I then checked the 100v+ 100v – lines and found them to be slightly down.

So I rebuilt the power supply. Replacing around 6 resistors. This did improve the voltages, but didn't fix the display problem. 

Now you might wonder what the 100v lines are used for. Well this pinball uses VFD(vacuum florescent display) displays for scoring and other information.
These displays are an alpha numeric display type that use a udn7180A to drive the displays, these are getting to be very rear to find. I have found them for $50 each and we may need 2-4 of them. If you do the math these IC's would end up costing $200 & the VFD cost is $170,so that's $370.
What we did in the end was order a new display from http://www.pinscore.com/products/pinball-displays/18-ps-12232-p16

 This was around $200 delivered from Germany to Australia. This is all solid state and looks just like the old one. With the new display you don't need the -100 +100 volts, it only requires 5v. This display is all electronic and when put into the backboard you can't tell the difference.
This has fixed the Phantom of the opera Pinball machine.


This article was contributed by Lee Davey from Hobart Tasmania Australia. He has been doing repairs on electronics and PC's for around 30 years.
Please give a support by clicking  on the social buttons below. Your feedback on the post is welcome. Please leave it in the comments.
P.S-  If you enjoyed reading this, click here to subscribe to my blog (free subscription). That way, you'll never miss a post. You can also forward this website link to your friends and colleagues-thanks!
Likes
(

88

)
Dislikes
(

0

)