Philips Norelco hair trimmer repaired. Model: 7310XL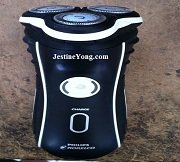 A special person walked into my shop and gave me this hair trimmer to be repaired. This VIP customer was my dad. The hair trimmer was working fine on electrical power but when running it on battery power, it did not last long.

The main power adapter runs on 6 volts and when I checked with a volt meter, it checked ok. From experience, this has two causes for this problem.
1-    Bat battery.
2-    No power reaching the battery to be charged.
To find out the cause of the problem, the hair trimmer has to be opened and checked out. There were only two star screws on the outside and two star screws inside the blade compartment. When these screws are off, I could see there are another three star screws on the inside of the hair trimmer. Once these screws are out, you can see what the inside of the machine.

As you can see, it is charging but the moment I checked for power reaching the battery there was no reading what so ever. I desoldered the battery out and to my surprise, when I checked for power reading at this time, there was 3 volts reaching that area indicating a bad battery.
The battery is beneath this green board and very easy to reach. Just desolder the positive and the negative terminal of the battery and then replace it with a new one. It was 1.2 volts and 1 amp.
One thing you need to pay attention to when removing the battery. There are no marks for positive and negative terminals on the inside board. Just make sure you pay attention to that before removing the battery.

If the battery was installed with terminals reversed, it will not charge at all. It happened to me once. The customer charged it for 8 hours and the moment he unplugged the main power and run it on battery, it did not run at all. That was a little bit embarrassing to me to do such a mistake.
When charging, the two green lights should be steady and when the charging is done, the two green lights should be flashing. I was happy to see that on this hair trimmer.
My dad was so happy to see his hair trimmer working on battery again. As for me, I was happy to see him happy. It made my day.

This article was prepared for you by Waleed Rishmawi, one of our 'Master Authors' and currently working in the Bethlehem area of Palestine repairing electrical and electronic equipment. Please give a support by clicking  on the social buttons below. Your feedback on the post is welcome. Please leave it in the comments.
By the way if you have any good repair article that you want me to publish in this blog please do contact me HERE.
Likes
(

9

)
Dislikes
(

1

)