Pioneer SM-700 Amplifier Repaired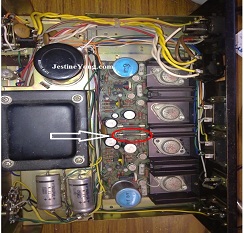 I have been involved in Automotive Electrical repairs for 8 years. I have always been interested in electronics, but didn't really know much about the area until about 18 months ago when I decided to take it up as a hobby.
During my research I found Jestine Yong's 'Testing Electronic Components' and after purchasing the E-book, studied it very carefully.
I was keen to put what I had learnt into practice and so when a workmate said that he had an amp that wasn't working, I offered to help.
FAULT
Pioneers SM-700 Amplifier only worked on one channel. My workmate said that he still used it because it had such an excellent sound quality that he didn't want to get rid of it.
DIAGNOSIS
I was able to download a schematic of the amp and study the electrical path. I used an oscilloscope to find outputs at different areas. I found a blown fuse and so right away thought I had found the problem. But, I had only found a symptom.
So I further disassembled the amp so that I could isolate the channels and give easier access.

By placing a globe across the fuse, the high current draw made the light glow brightly and I could quickly see that I had a short to ground. I did some voltage tests at the outputs of each of the transistors and found that Q10 was not reading correctly.
I unsoldered the transistor and after testing, found it to be faulty.


The schematic diagram of Pioneer SM-700
I installed another 2SC793 and retested across the fuse with a globe – no short this time!
I reassembled the amp and tested and gladly found that I had successfully repaired the amp.
This was my first major electronics repair and it gave me the confidence to continue to learn, study and experiment with components that people have asked me to look at for them.
I am not qualified enough to do this professionally, but enjoy it as a hobby. I encourage others who are interesting in the field to get involved by studying E-books, such as the ones that Jestine produces, YouTube videos and forums that specialize in these areas – it is really worth the effort for the satisfaction you receive!

This article was prepared for you by Mark Rabone from Australia.
Please give a support by clicking  on the social buttons below. Your feedback on the post is welcome. Please leave it in the comments.
P.S- Do you know of any your friends who would benefit from this content that you are reading now? If so, forward this website to your friends or you can invite your friends to subscribe to my newsletter for free in this Link.
Likes
(

26

)
Dislikes
(

0

)