Protection mode in Denon AVR-X500 solved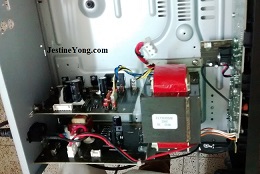 I got this AVRX500 Amplifier Receiver with the complaint that it was going to Protection Mode. Red Power LED was blinking after the power on, when preliminary display round is over.   Checked and found that the complaint was accurate.   Opened the set and looked for any bulgy capacitors or any visible damages.   None!   Disconnected the power supply to Amp Board.   Then it stopped going to prot mode.  So, removed the micro control PCB from top, and then the amplifier PCB from bottom.




Since a free service manual was not available in the web, requested party to get it from abroad (Gulf) where he was working.   In the meantime, I connected the PCBS keeping it externally.   I replaced the control PCB with just two screws.   Then kept the Amp PCB upside down on top of the cabinet, and then interconnected the wires of AC Power in,  protect feed back cable and other data communication cable from uControl PCB.   Switched on with the same result.   Then I removed the protect feed back cable.   Set got out of protection mode, but the relays of the headphone, front L&R speakers and surround will not get on, unless the uController gets feed back.
So, I checked the protection mode connector and noticed that it had markings on the PCB, pins 4 to 7 of which were: ASO Det, DC Prot, Thermal Det A, Thermal Det B.   The first 3 pins were for driving the three relays. So, I started shorting the pins of each Det, Prot pins (4 to 7) between Amp board and the uController Board, one by one, i.e., Pin 4 of Amp Board to Pin 4 of uController, 5 5 to 5, 6 to 6, and 7 to 7.   When I shorted the DC Prot, the set switched to prot mode and led started blinking, while nothing happened with the other three.   So, confirmed it was from the DC protect.   Turned the set off, discharged the tank capacitors using a two 2.2K 10W Resistors, which were in series and covered by insulation tape, specially made for such uses, as per guidelines of Jestine Yong. See Picture below:

By that time, I got the service manual in PDF format. Took snapshot print outs of related circuits. Drew the extending circuit on the rear side of the amp circuit to save a paper:




The DC protection circuit was getting feed back from front Right and Left Channel, Surround Right and Left Channels, and Centre out, I.e., all the amplifier outputs.   So, my first attempt was isolating the protect path by removing one side of jumper wires that go.   So, when I removed the jumper that goes to Front Right Channel, the set came out of protect mode.   I checked the voltage at that point.   It was showing around – 6 Volts!   So, now I knew that the culprit was inside Front Right Channel circuit.   Conducted tests as per trouble shooting chart in the service manual on the amplifier outputs and found out that these were normal.
So, started comparing the voltages between left channel, which was working and right channel, which is detected as defective.  Noticed that Transistor Q5503 (KSC1845FTA) was showing 6 V in collector whereas similar transistor in left channel was showing only 1 V.   One thing to be remembered here is that if we get positive voltage, then the problem is in the negative rail and vice versa.   Disconnected power supply, and removed the Amp PCB again (duly discharging the tank capacitors) and started probing the components one by one and noticed that Resistor 5509 (33k) was open!

Moreover, Q5502 (KSA992FTA) was seen to have corroded collector lead and it snapped when I touched it!   I replaced the transistor with 2SA992 (both are equivalent) from my stock.   Replaced the resistor.   Then, as a precaution, checked rest of the components in that portion.   Found a couple of other resistors in almost broken condition due to fungus attack and capacitors slightly out of ESR reading.   So replaced these.  While checking the components on the board, placed a tick mark on the circuit diagram simultaneously against that component, to keep a track and not to miss any!  (You can see that in the picture of AMP circuit diagram given above)  Did dry solder patch of that area.  Cleaned the PCB thoroughly.


Connected the Amp PCB back and switched on. Hurray! Set came out of protection mode and started working normally.


Did a test run of it for more than 3 hours. Connected various inputs and output speakers. Checked Tuner. All worked well. So, another job completed satisfactorily!
Here is the final picture:


This article was prepared for you by Parasuraman Subramanian from India. He has more than 30 years' experience in handling antiques equipment Valve Radio, Amps, Reel Tape Recorders and currently studying latest techs classes conduct by Kerala State Electronics Technicians' Association. He was a BBA graduate, retired as MD of a USA company and presently working as Consultant Manager, Purchase & IT, in Irinjalakuda Cooperative Hospital.
Please give a support by clicking  on the social buttons below. Your feedback on the post is welcome. Please leave it in the comments.
P.S-  If you enjoyed reading this, click here to subscribe to my blog (free subscription). That way, you'll never miss a post. You can also forward this website link to your friends and colleagues-thanks!
Likes
(

138

)
Dislikes
(

0

)